Race Report: Ironman Whistler
T1 – The Swim (3.8km)
I am starting my race report with one of my favourite things to do – Sleep.  I believe it's very important and sometimes the one thing that people don't always make the time for.  All of the info you read says how important it is to get a good nights to sleep 2 nights before the race but I also recently read it's just important to be well rested the week leading up to the race.  So, lots of sleep for me the week before the race, which meant 9-10hrs a night (I understand not everyone has the luxury of being able to do this/fit it in). Bed at 8 pm the night before the race, 3 alarms set for 4.15am – to be honest I normally always wake up before an alarm on race day but not this time – so slept pretty well even the night before.
I arrived into T1 (swim start and first transition) at around 5.30 and still felt pretty calm.  Added my food to my transition bag and bento box on my bike (can't leave it overnight as it may attract the bears).  Couple of toilet strestops and chatting with my club mates and suddenly realising – oh, it's time to start putting on the wetsuit.  I have a Blue Seventy Reaction wetsuit which I love (yes, partly because it holds my legs up and helps me go much faster!).
Suddenly it was real – I am about to do my first Ironman Canada!  I still wasn't super nervous but for sure there were waves of calm and nerves going on.  They allow people in the water from 6:30 but I didn't want to get in too soon for fear of getting cold so I stood on the shore until 6:50.  Then it was time to do this – learning from past experience I knew I had to have a least a short warm up in the water which was a nice temperature (around 19C I believe) so in I went for a couple of minutes swim before finding my spot to start.
I knew I had to start fairly far back as I am a pretty poor swimmer (although much improved) so decided I would just start at the back of the main pack in the hope of getting some drafting.  Suddenly we were off – a nice smooth start to my swim which was great. To start I just followed the huge crowd of swimmers and once everyone started to spread out I looked for someone to draft off.  I then spent the rest of the race finding someone to draft.  I'd lose one person on a turn among a few people and just pick another one.  Drafting is great – you just need to make sure the person you are drafting off is not going off course which did happen with one person so I just swam alone for a short while and then found another swimmer.  I have no doubt that I used way less energy by doing this and it also made my swim go by really quickly. When I looked up, I realized we were heading to the shore already – fantastic!
I was out of the water in 1hr 34 mins – right on the time I had hoped for and I was delighted.  For me, this was a huge achievement as when I signed up a year ago my biggest concern was not making the swim cut of 2hrs and 20 mins.  Yes, I have come a long way.  To be honest, my thoughts pre-race were, get the swim done, start your race but I actually enjoyed the swim this time.
Out of the water in 1456th place (1,948 athletes registered although not sure how many did not start).
T2 – The Bike (180km)
I had noticed it had started to rain at the start of the swim but once out of the water and having my wetsuit stripped off (only in Ironman do you get wetsuit strippers!) I then realized how cold it was – freezing – I believe it was 7C – brrr.  So, I took my time in transition towelling off and putting on dry clothes – shorts, leggings, arm warmers, wind vest, gloves.  The volunteers were awesome helping you dress, handing you things as you need them – taking care of your discarded stuff.  Another athlete had said he always had a few yams in T1 and it worked really well so I also tried this – just a very small amount.  It worked well for me too.
Once I had changed, it was off on the bike and boy was it cold!  It was raining really heavily by now and I was quickly soaked.  Hats of to spectators out there cheering at T1 and along the bike course in this weather – it certainly helps to have people out there cheering so much appreciated.  By the time I got to the base of Callaghan (the first climb) my feet were soaked and freezing, as were my hands.  At this point, I will be honest and share the fact that I thought – if it stays this cold and wet I will be lucky to make it through the bike.  But then I remembered to stay positive, remember that everyone else was in the same situation and that we'd be really unlucky if it rained all day and it would warm up as the day went on.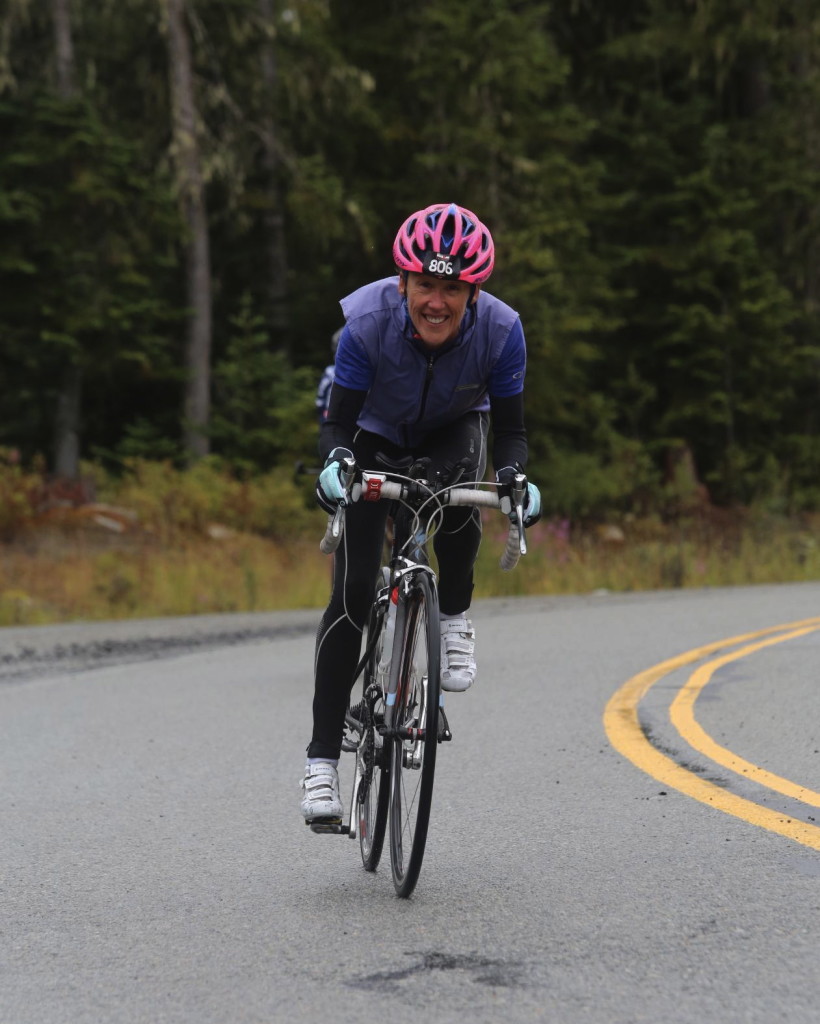 I was so happy to start climbing as I knew at least it would warm me up.  Changing gears was a challenge as my left hand wasn't working too well from being so cold but somehow you just manage.  No to the thought of I can't change it – I'll just have to work a little harder – not in this race – you need to save your legs so you must get into the right gears.  A nice steady climb remembering, as trained, to take it easy.  I love the uphills so have a tendency to go a little harder but was warned that this would "get me" later in the race so I made sure I wasn't going too hard.
I'd never trained with a heart rate monitor prior to joining my tri-club but the coach Andrew told me how important it was and how much it would help my training and racing so I started using one.  For sure knowing I shouldn't go above a certain heart race helped me pace this race really well – thanks coach!
Almost at the top of Callaghan the rain had eased off and almost stopped.  So, although I thought I might freeze on the way back down it was totally okay.  I took it easy as I didn't want an accident so no letting it go on this downhill.  Then back to the bottom and onto the highway with the skies looking a little less heavy and me thinking well – it's a couple of degrees warmer in Pemberton and you'll be there soon.  It was great going back through Creekside and Whistler to see all of the people spectating including lots of friend and club mates out there.
I've not mentioned fueling yet (too busy talking about the weather!) but this is a vital part of the Ironman race.  I had a gel 15 mins before the start of the swim and then a bottle of liquid calories (300 – a mixture of carbo-pro a GU brew for the electrolytes) before climbing Callaghan.  I basically took on approx 250 calories per hour for the 7hr + ride with 3 bottles of fuel, 2.5 cliff bars (250 calories per bar), one gel and some yams around half way.  Along with a reasonable amount of water too – maybe 3 bottles or so.
It was nice to get to Pemberton and the special needs bag that you get to leave at just after halfway.  I had a bag of yams with olive oil and salt and a bottle of liquid fuel in mine.  Again, more fantastic volunteers.  The older guy who had my bag was super nice.  I figured it would be easier just to eat my soggy yams there than take them on the bike and as I am shoveling them down, sharing that I am likely to get indigestion, he says "you know it's a long race, just take your time"  "You are so right I reply" slowing down.  He then says, "besides which, you look really good at this stage so I am sure you will finish – what's another couple of minutes" – people are just awesome.  I thanked him for his advice, kind words and volunteering and I was off again.
The out and back flats of Pemberton are a little challenging in a different way, but I worked on maintaining a nice steady pace and a good cadence (for any non-cyclists reading this cadence is the rate at which a cyclist is pedalling/turning the pedals).  This is something I am still working on because it is super important for being efficient on your bike.  I was watching my heart rate the whole time to make sure I didn't go too hard on the "nice flat section" as I had been advised by lots of people it was easy to do this and pay later in this race.
Then for the first time that day I finally started to get warm.  I stopped for another toilet break (4th one since getting out of the swim) and took off my wind vest as I started the climb back to Whistler.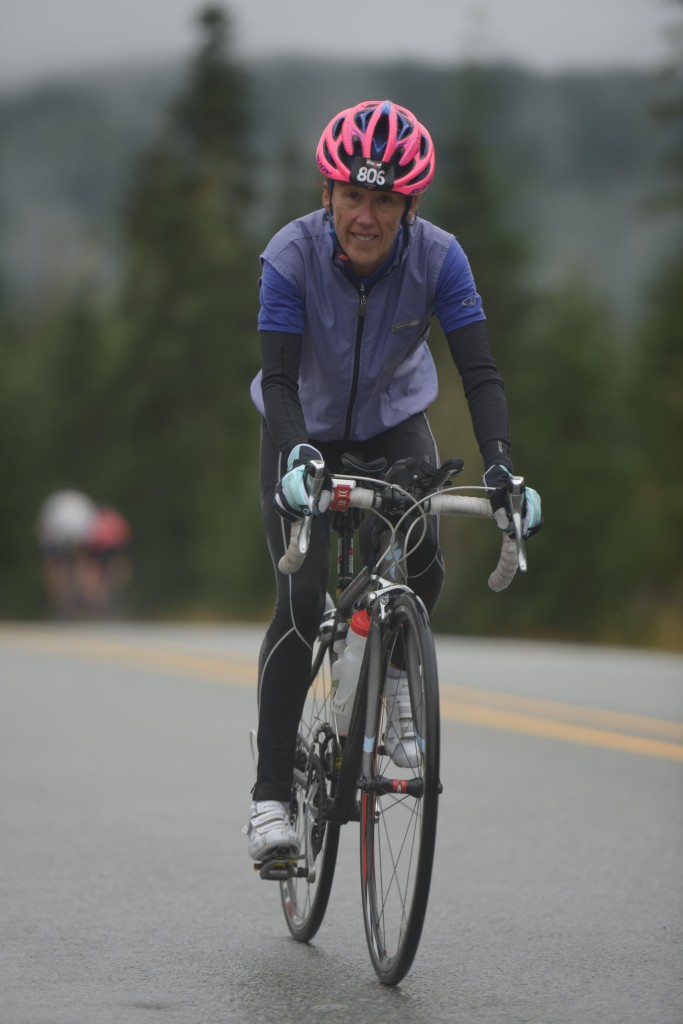 This is the part of the course that most people don't like as it has a lot of climbing and is, of course at the end of a pretty long ride.  But today, it was for sure, my favourite part of the course.  I had been told that everything should feel pretty easy until this part of the course so had ridden accordingly.  It was time to work a bit harder.  I felt strong and passed about 100 people at least on this section (which of course is always nice). Having ridden the course on a couple of training rides certainly helped. I made sure to keep my heart rate in check as I reminded myself I still had a marathon to run.
My bike time was slightly slower than I had anticipated but the conditions definitely made things harder. I had also promised myself I wouldn't go too hard on the bike as I really wanted to have a good run and enjoy the whole event.  My mantra for this race was to keep smiling!
So, 7hrs 9min 3s on the bike – moving into 1054th place.  And no flats or accidents!
T3 – The Run (42.2km)
Not sure how many dropped out but I think there were quite a few DNF's on the bike related to the cold, wet conditions.
So, onto the run and super happy to put on dry socks, as well as a complete change of clothes to run in.  I had decided to run in my "long run shoes" – my favourite New Balance 1080 v5's as I knew some support would be a good idea and they were super comfy the whole race.  Finally a few rays of sunshine – nice.  It was actually perfect running weather and nice to be onto my strongest part of the event.
I felt good running from the start and made an effort to hold back – a marathon is a long way.  The run I was doing by feel and kilometre times.  I think Whistler is a great run course – 2 loops including a rolling lap of lost lake, some paved trails and then out by Green Lake where the turnaround point is. It is also great for the spectators too, as they can see you pass several times in the right spot.  There were lots of people I knew cheering on various parts of the course which was fantastic.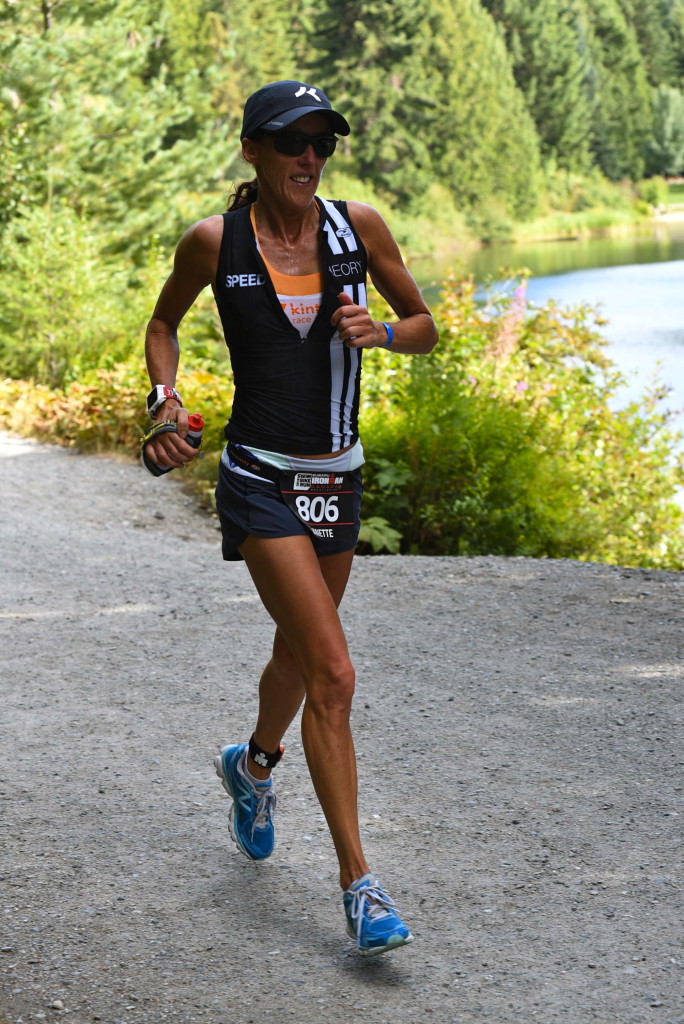 I'd been advised to do run with a walk every so often through an aid station.  So, although new to me, I did take this advice  and it certainly helped to break up the race into smaller sections – next walk break, next gel (which I took every 30 minutes).  I finished lap one and was still feeling really good. It was also great to see lots of my teammates out on the run looking good too.  In all honesty, I was surprised that I was able to keep going and hold my pace.  Other than having a couple of small stomach cramps, nothing too major happened. The last couple of gels were a little harder to take but knowing the importance of fuelling you just get them down.
With the last 5k to go and I was still feeling great.  Yes, there'd been a couple of little waves of 'oh, this is a little tough', but overall things were good.  Before I knew it, I was at the village and the finish line was in sight.  I picked up the pace a little and ran into the finishing chute – a few high fives and then there it was, the finishing line clock and the announcer saying – Janette Purdham, You are an Ironman!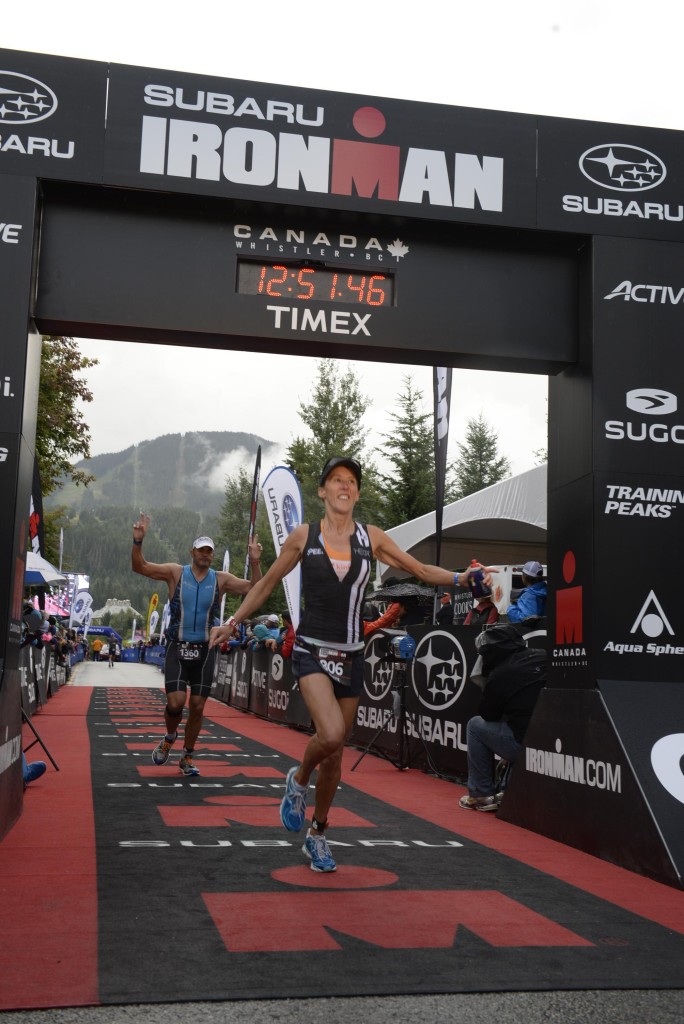 Delighted with my 12:51:47 and my marathon time of 3:48:16.  I finished in 579th place having passed 475 people on the run.
I still can't believe I successfully completed an Ironman!  It was a fantastic event in a great location.  The supporters, volunteers and other athletes make really made it something special.
Will I do one again?  I think I just might!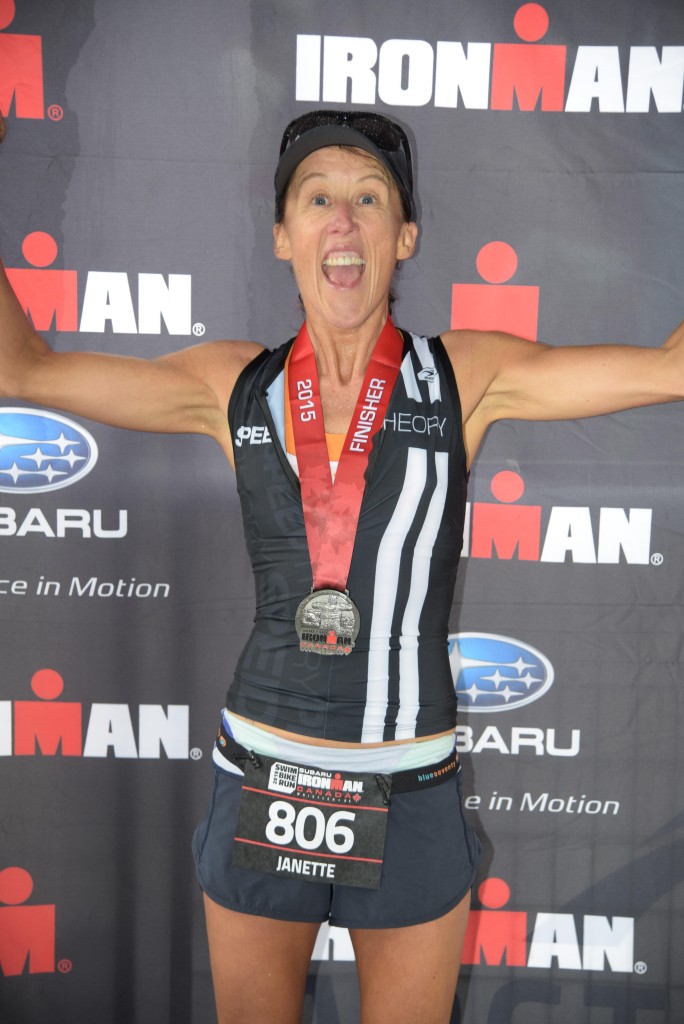 Lots of People to Thank…
Big thanks to Kintec and North Shore Athletics for all of their support – I am so grateful and proud to be part of  the Kintec Race Team!  I really appreciate all of the extra's from the salted caramel Gu's, Sundog glasses and my favourite shoes, to name but a few things.
Huge thanks to Andrew Tuovinen, who has taught me lots – I know there is no way I would have had the same race experience without Andrew and Leading Edge. Thanks to my club and all of the members for the training, encouragement and support for the newbie triathlete. Also, thanks to Andrew and Paul Cross for an excellent training camp in Whistler four weeks before the race and to the other amazing athletes I got to share this experience with.
David Terlicher at Restore Physiotherapy – you are the best!  Dave Watt, RMT for treatment and lots of fantastic advice.
The guys at Speed Theory – Tom and Mike for looking after me and my old bike, sorting me out with new wheels, brakes and a great fit.
And thanks to all of my amazing friends who I appreciate more and more – for training with me, listening to me, helping me out and just generally being awesome.  It meant a lot to have you all up there in Whistler with me and cheering me on.