Race Report: Ironman 70.3 St George
This year, I decided to do a different race than Victoria Half Ironman, as I had done this one for the last three years. So I looked at races and found one in St. George, a two-hour drive from Las Vegas, in early May. It would fit in well with my plan to do Whistler Half Iron at the end of July.  A few people told me it was an extremely challenging race. But the course itself looked stunning so I thought it would be worth a bit of extra effort.
Training for the race
While training in the winter is great for swimming and running, it's a bit more difficult to bike. In fact, it was great to have an early season race to give me that extra motivation for winter training.  I did most of my rides indoor at a spin class or on a trainer and I did manage to get in a few outdoor rides, but only a couple that were three hours long.
I didn't do nearly enough climbing to prepare myself for a race with 1,077 metres of elevation on the bike! But I did get in several hill runs which I hoped would prepare me for the run course with 386 metres of elevation – which is pretty hilly for a triathlon run course.
I did another Seahiker course to help improve my swimming (my weakest sport by far) and trained most Tuesdays on the track with Mile to Marathon for some great speedwork.
My spin classes were at Cyklus where they have an Ironride two-hour Spin class on Sundays during the winter months, which was great training and certainly better than two hours solo on the trainer. I trained six days a week and always spent my Mondays fully recovering.
The other factor at St. George would be the heat. The average temperature for May is 30 degrees Celsius. Even though it was early May, it could potentially be scorching. To prepare myself, I did hot yoga and 30 minutes in the sauna once a week a few months before, and then twice a week for two weeks prior to the race.
My fitness on the bike wasn't quite where I wanted it to be. So, I decided that I would just go into this race with no expectations other than enjoying it.[/vc_column_text]
The Day Before
I arrived in St. George on Thursday with the race coming up on Saturday. On Friday morning, I met up with another triathlete from Vancouver and we went for a swim. I'm glad I got to do my first open water swim of the year before the race. I've heard the swim at this event can be quite cold – when you first get in, it was certainly a little chilly. But after a few minutes, I was totally comfortable.
It was such an amazing spot: flat, clear water with lovely surroundings. We took a short 20-minute swim to get used to swimming open water and then carried on with our day. After a short bike and run in the early afternoon, I dropped the bike at T1 for the race the next day. We had a lot of pre-race fuelling on Saturday, making sure to eat quite a bit more than normal to help with the fuelling for the race.
It was a quite early morning: the race start itself was at 7 a.m., but it was a 30-minute ride to the swim start. So, of course, it was an early night. Luckily for me, I tend to sleep pretty well before races. I got in a good seven-hour sleep, even though I had to get up at 4:30 a.m.!
On the bike
The bike course was as awesome as I thought it would be. Because I'm a pretty slow swimmer, I tend to do a reasonable amount of overtaking on the bike.  The hills weren't actually as bad as I'd expected. As usual, I passed a lot of people on the hills – the joys of being small! However, a few of those people passed me back on the downhill. But the scenery was stunning and I certainly remembered to enjoy it!
The volunteers and locals were all amazing all along the course. I made an effort to thank as many as I could, and smile lots.  I also made sure I fuelled well during this race. In last year's Ironman Canada, I messed up on my fuelling and hydration and had an awful run. This time, I was determined not to make that mistake again. I had already finished a 200-calorie bottle within 30 minutes of being on the bike and consumed a total of 850 calories on my ride. Also, I took salt tablets the day before the race and during the race.
The biggest hill climb
The biggest hill of the climb was into a National Park, Snow Canyon. It was a little tough and by then, had started to get hot – but the stunning scenery certainly helped! Although it was a tough climb, it wasn't too long and was followed by a breathtaking downhill. One of the great things about the fairly long staggered swim start was that it really spread out the bikes so this race never felt crowded at all.  I am not super fast on the downhills so it was nice only to have a couple of people whizzing by.
I was completely happy with my bike time of 3:08:52, as I felt I had biked well but not too hard; I knew I wasn't going to be close to three hours. I didn't wear a heart rate monitor and don't yet bike with power.
Also, while on the bike course, I knew the Canadian, Lionel Sanders was racing. So I was delighted to see him out in first place with maybe five kilometres to go! I gave him a huge cheer from my bike, and was ecstatic to find out he'd not only won but also broken the course record!
The last steep hill
A couple of out and back stretches on the run and I was certainly passing lots of people – many who were walking the uphills. I finally got to the last, steep, and long uphill and even decided that a little power hiking was in order.
My pattern was 30 seconds of power hiking, running for a bit, and then another 30 seconds. But that's the only part of the whole run where I walked. At one point, I remember thinking, it's so hot, how can I run in this? I told myself, remember that time you did the Knee Knacker 30-mile race in 30C heat? You can do this! Then, it was downhill and flat to home for the last 5k.
I was finally able to pick up the pace to below five-minute kilometres and even managed a couple of them that were 4:30. All things considered, I had a great run and it was so nice to really be able to run well in the last four kilometres. A nice finish into the town and along the Ironman shute with lots of spectators cheering was a great end to a fantastic event.  I didn't even know my overall time exactly. The clock starts when the pro's start, so the finish line clock is based on that. But I was delighted with my race as I felt like I'd had a good bike and an outstanding run.
On checking the results later, I had placed seventh in my Age Group, 123rd female, and 681 (out of 2,217 finishers). I also had the fastest run split in my age group by almost twelve minutes.
[/vc_column][/vc_row]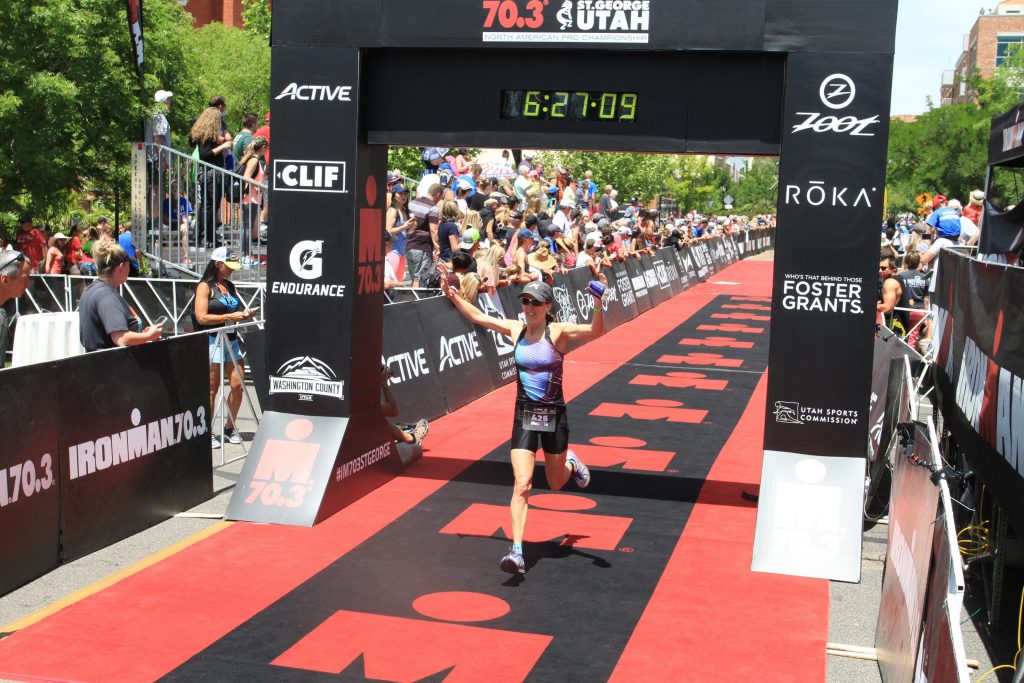 All in all, it was a wonderful event: well-organized, on a stunning course with amazing athletes, volunteers and crowds supporting an cheering. Certainly worth the effort of travelling to and tackling a fairly tough course!
As always huge thanks to Kintec for all of the products and support, my wonderful Physio, David Terlicher of Restore Physio and to friends who I train with, take advice from and who I know are supporting me all in the way in my Triathlon endeavours.
Janette Purdham
Kintec Race Team
Want to learn more about an upcoming race in your area? Read race reports from fellow runners and learn more about the course!