What is a Kintec Pedorthist?
Your feet are your foundation. When you have foot pain, it interferes with your day-to-day activities and overall quality of life. Chances are when you visit your doctor to get help with your pain, they're going to refer you to see a pedorthist. In this blog we are going to help you understand who exactly a pedorthist is, why they should be your orthotic provider of choice, and what distinguishes them from a podiatrist.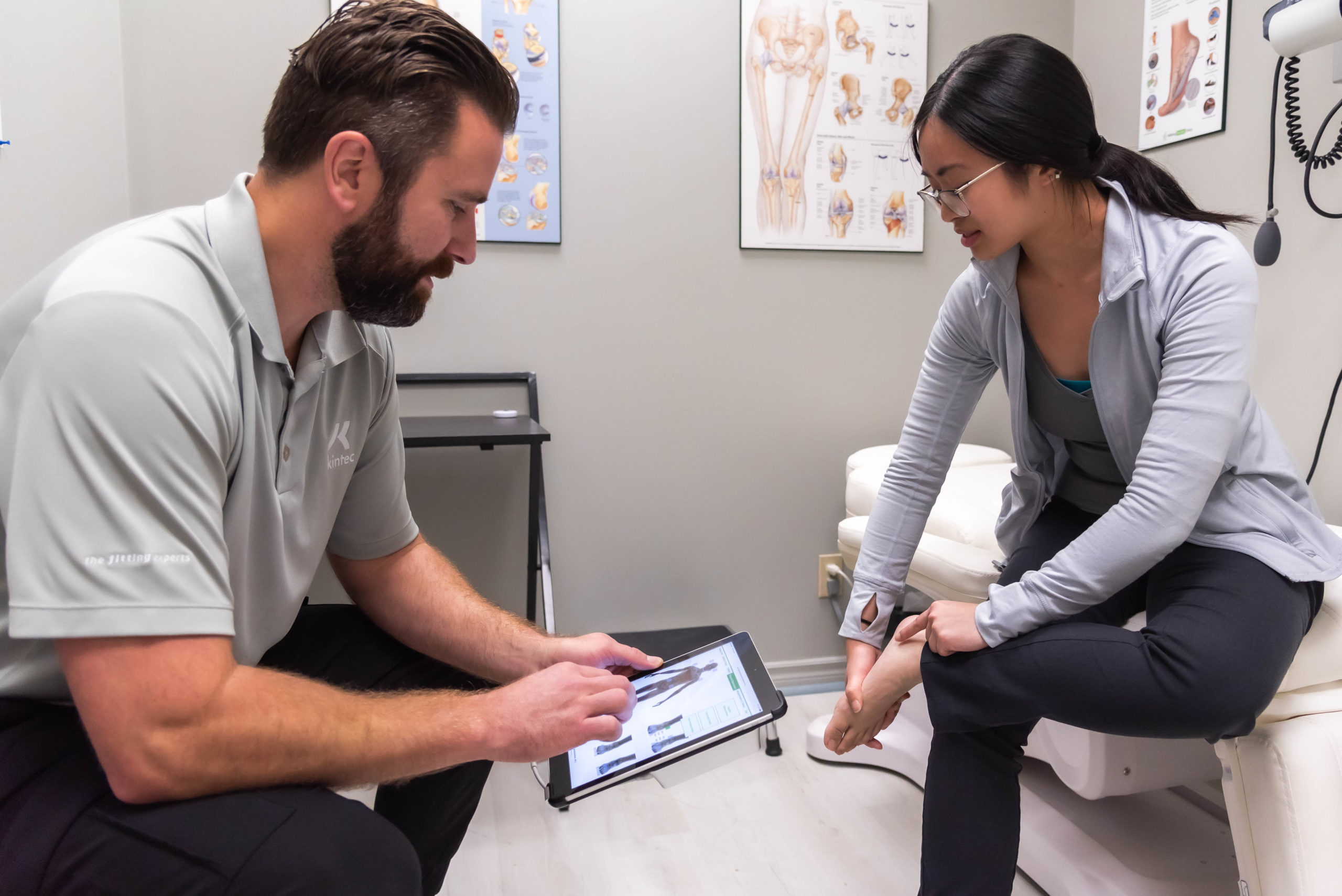 Kintec's pedorthists are all Canadian certified healthcare professionals trained specifically in the assessment of lower limb muscle and joint function. They require a 4-year undergraduate degree in kinesiology or related field, plus a 12-month post-graduate Diploma in Pedorthics from Western University. Our pedorthists excel in gait analysis, shoe prescription, and the design of custom foot orthotics – and then relating all that information into a comprehensive treatment plan.
Pedorthists are also one of the only professionals able to accommodate foot shapes that 'fall outside the bell curve' for off-the-shelf footwear. Post-trauma, chronic foot arthritis, club foot and other conditions can change the shape of your foot and create a requirement for an unconventional biomechanical accommodation. Kintec pedorthists have access to extra-width footwear and can also modify over-the-counter footwear to accommodate extra support, extra depth, or acute pressure sensitivity.
Why you need a Kintec Pedorthist
1.Kintec Pedorthists are experts at maximizing the benefit of lower-cost conservative care options. Many lower-body injuries or conditions can be helped by simple, but intentionally directed solutions involving activity modification, footwear, or assisted devices (such as braces or orthotics). Outcomes from our clinical database of over 20,000 pedorthic consults show that we can provide clinically meaningful pain relief with our approach to over 80% of patients – and best of all, it doesn't involve medication or surgery.  In some more advanced cases, our pedorthists are also well networked into their medical community and can refer forward as needed to sports medicine, physiotherapy, or other medical professionals to optimize your treatment plan.
2.Kintec pedorthists have access to one of Canada's largest inventory of speciality footwear. Having a well-designed orthotic is not good enough. That orthotic needs to both fit and complement the function of the footwear it is going into, to work effectively.  Most orthotic providers don't carry performance footwear making it harder for them to deliver a high level of integrated fit.
3.Kintec orthotics are adjusted in-house by someone who knows your history, saving you time. One of the advantages to a custom orthotic is the level of adjustability to its design to optimize its clinical effectiveness and comfort. When you need an orthotic adjustment, Kintec doesn't ship your device off to some 3rd party laboratory in California, we perform those adjustments in-house from people who are familiar with your history – oftentimes adjusting while you wait!  Ultimately, this personalized in-house approach saves you time and helps ensure the adjustment's more effective.
4.Kintec pedorthists take the time to both understand the nature of your problem and outline a detailed treatment plan. Despite our innovative orthotic designs and access to quality premium footwear, the number one thing our patients value is the time we take to listen, educate, and empower them to overcome their barriers to movement. Our goal is to make you leave your 45-minute appointment feeling informed, and confident about your path to recovery.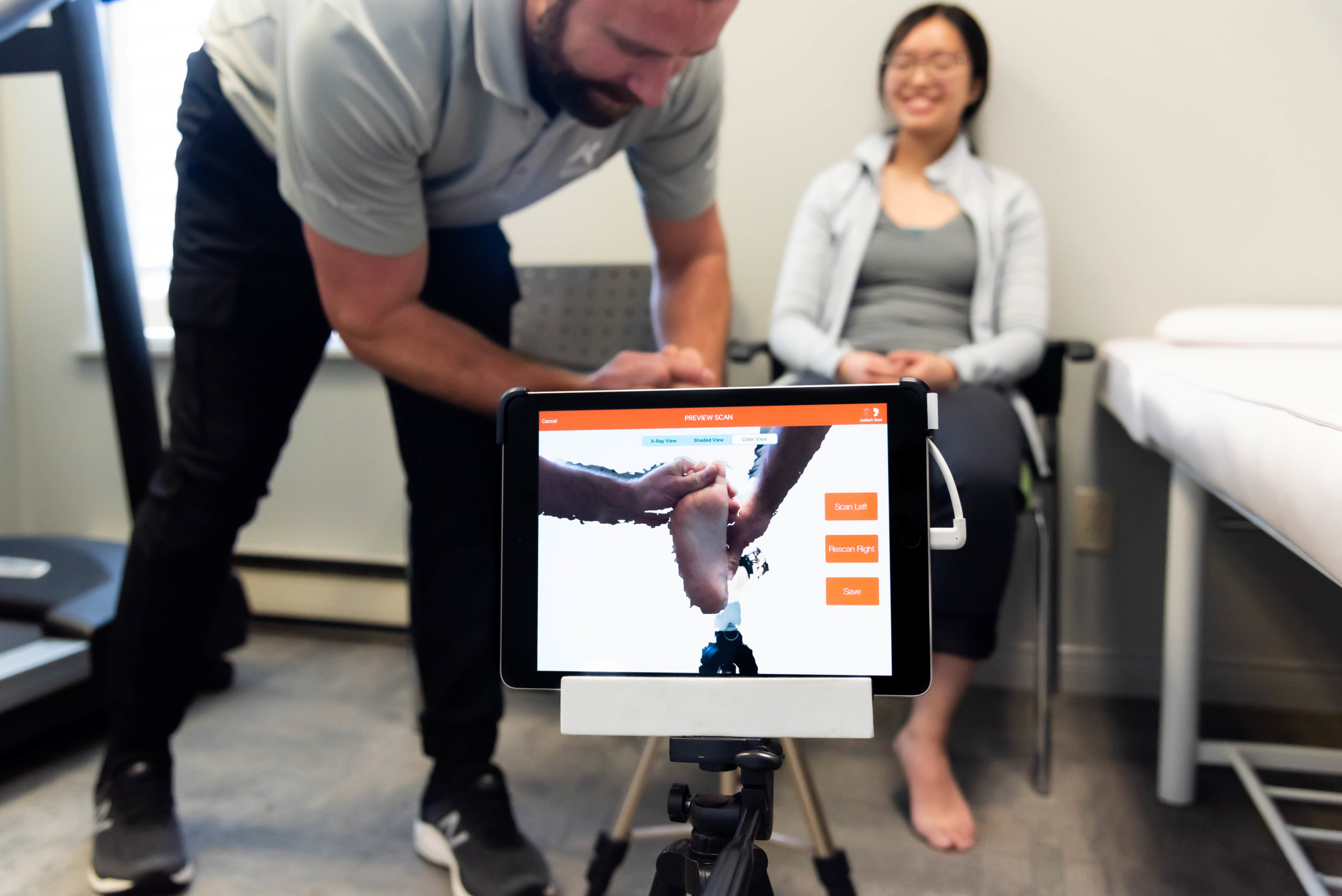 What distinguishes a Pedorthist from a Podiatrist
In BC and Ontario, podiatrists are doctors of podiatric medicine that have received their training in the United States and have passed special exams in both general foot health and surgery for foot conditions and injuries.  Some podiatrists are specialized in different areas of foot medicine including – surgery, wound care, sports medicine, diabetes, and pediatrics.  While a Podiatrist can also provide custom foot orthotics, this is not their area of primary focus.  Podiatrists are a great resource to assess general foot health, remove hard skin (callusing), perform hangnail surgery, and help with diabetic wound management.
Now that you know what exactly a pedorthist does, we hope you're more confident in the ability of Kintec's team of pedorthists to address and relieve your foot pain. Foot pain doesn't have to be something to just live with. Solutions exist; take your first step by visiting a Kintec store near you!
Want to experience the Kintec difference?
If you have any questions, reserve a One2One orthotic appointment today. Our Canadian Certified Pedorthists will help create your treatment plan.
Our One2One program will provide you with the highest level of safety and personalized service.
book an appointment