How Technology Will Help You Understand Your Feet Like Never Before
Experience counts for a lot. We know that! Our team of experts bring together over 30 years of clinical expertise and the best in-class scientific research. However, we also use the latest tools and technology to enhance your customer experience. From the artificial intelligence in our Fit System to state-of-the-art orthotic manufacturing techniques, technology adds value to our team and unique insights to you.
Read on to learn how this emphasis on technology offers you an experience like no other!
Footwear Fitting
Sizing for footwear has changed dramatically over the past few years as footwear retailers are now embracing digital and mass-customization technologies.
How it used to be done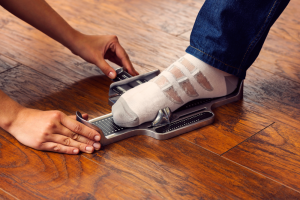 For most of the last 100 years, footwear retailers used a Brannock Device (above image) to measure your feet. You've most likely come across one yourself. While a Brannock measures your foot's length and width, it misses out on several other measurements that are important in sizing a perfect fit such as heel width, in-step height, and forefoot height.  If you only use a Brannock device, it's a guessing game to know how to factor these additional measurements in your footwear recommendations!
Have you experienced irritation when the collar of a shoe rubs against your ankle?  That's because the footwear didn't account for your Ankle Circumference measure.  How about the dreaded blackened toenails after a long run or walk (especially if downhill!)?  That's likely due to a combination of not enough forefoot height and a shoe being too short. Maybe your feet sometimes get achy or fall asleep after a long day?  That could be due to your in-step being higher than the shoe can accommodate.  You don't know any of these measurements with a Brannock device. This is why Kintec implemented the FitScan system.
How Kintec does it – FitScan Technology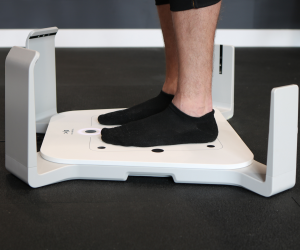 The image above is Kintec's 3D FitScan and is how your feet will be measured at a Kintec location. FitScan is the most advanced 3D scanning technology that provides 17 unique variables about your foot shape – from forefoot height to your heel width to get an accurate understanding of your feet. Not only do you know these details of your foot to the nearest millimeter, but you can also see where your foot's measurement compares to the population average. The best part is that you get these measurements sent directly to your email for you to reference the next time you're looking for shoes!
Our Fit Expert team then applies these advanced sizing measurements, along with footwear's functional properties, to give you the best feeling footwear possible.
Making Your 3D Foot Impression
In order to ensure your orthotics are effective for pain relief and are comfortable, it's important to get a precise, high-fidelity impression of your unique foot shape.
How it used to be done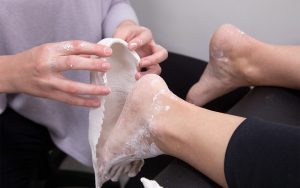 For decades foot care professionals would use a plaster-of-paris mold of your feet in order to reverse engineer your orthotic insole. Compared to other methods at the time (circa 1980) plaster impressions were considered the gold standard; they could provide a precise impression for your foot in a clinically determined standard reference position (for example, holding your ankle in a neutral posture).
Unfortunately, plaster impressions require a lot of time to complete (like 20 minutes!), are messy, and are fragile.  Furthermore, these impressions are then transported to a separate facility where the orthotics are made which is again costly, time-consuming, and exposes your precious foot model to damage.
How Kintec does it – 3D structure light scanner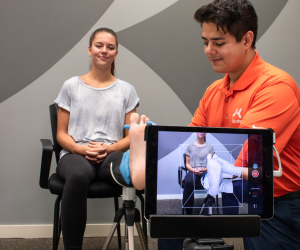 Digital 3D scanning has been around for over 20 years but historically has been constrained to using lasers fixed to a large, cumbersome gantry that moves the laser across the length of your foot.  These devices are expensive and restrict how we can position your foot.
Today, your foot impression at Kintec will be captured using a scanner that uses patterns of infrared light to measure the 3D depth of your foot in a device that's smaller than most eyeglass cases!   Your foot scan is captured in seconds and is immediately uploaded and stored in your secure patient record and ready to access by our Production Team.  There is even a feature in our scanner to remotely time the scanner allowing our Kintec Pedorthists to ensure your foot is in an ideal reference position to comply with best practices in our industry (as seen in the photo above).  
Orthotic Manufacturing
The methods and materials used to fabricate your orthotics matter.  From cast processing to top-cover selections, there are a lot of ways orthotics can be made to enhance not only their therapeutic effectiveness but also improve shoe fit and enhance comfort.
How it used to be done – off the shelf orthotics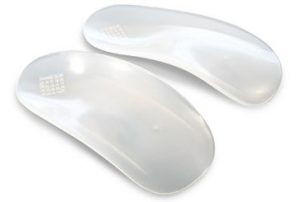 The traditional goal of orthotics was to re-align your skeleton using a simple plastic shell. Comfort or shoe integration was rarely considered, let alone which activities these devices would be used for. Have you been frustrated that your orthotics stretch out the upper on your running shoes? Maybe there's no room left for your foot when you place your orthotics in your dress shoes? Ever wondered if your orthotics could feel softer under your feet or actually improve your sports performance? In order to get these enhanced features, you would need to go to a place that considers more than your clinical presentation but also your lifestyle and footwear.
How Kintec does it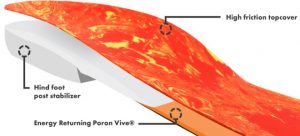 Before we create your orthotics, we consider your career, your lifestyle, and your biomechanics. This allows us to build a personal profile that we use to design custom orthotics to your personal needs. Everyone has a different body form whether at rest or in motion. As a result, you receive an orthotic that's customized not only to the 3D shape of your foot and clinical needs, but also intended footwear and lifestyle.  Also, if your orthotics still don't fit right, we provide readjustments to make sure it exactly suits your needs.
Our Dress Design uses a carbon composite shell material that achieves the same level of support using only half the thickness. The shell material in our Running design is so lightweight the overall orthotic weighs roughly the same as most running shoe sock-liners. In order to give you more bounce in your step with our athletic designs, we have implemented a breakthrough material called Poron Vive that uses responsive material that reduces and redirects shock forces away from the foot to deliver a "lift-off" zone for maximum propulsion. During your assessment, a Kintec Pedorthist will guide you through the best design to suit your needs, allowing you to stay active on your feet, for life!
Want to experience the Kintec difference?
If you have any questions, reserve a One2One appointment today. Our Fit Experts and Canadian Certified Pedorthists will help guide your fitness journey.
Our One2One program will provide you with the highest level of safety and personalized service for all of your bracing needs.
book an appointment