The Benefits of Skate Orthotics
If you play hockey, you're probably familiar with how far some players will go to get their skates performing at their best. Many players wear their skates one or two sizes too small or don't wear socks to get a better connection to their foot and ankle. Almost all serious hockey players get their skates fitted by a skilled professional.
One area that often gets overlooked is the bottom of the foot.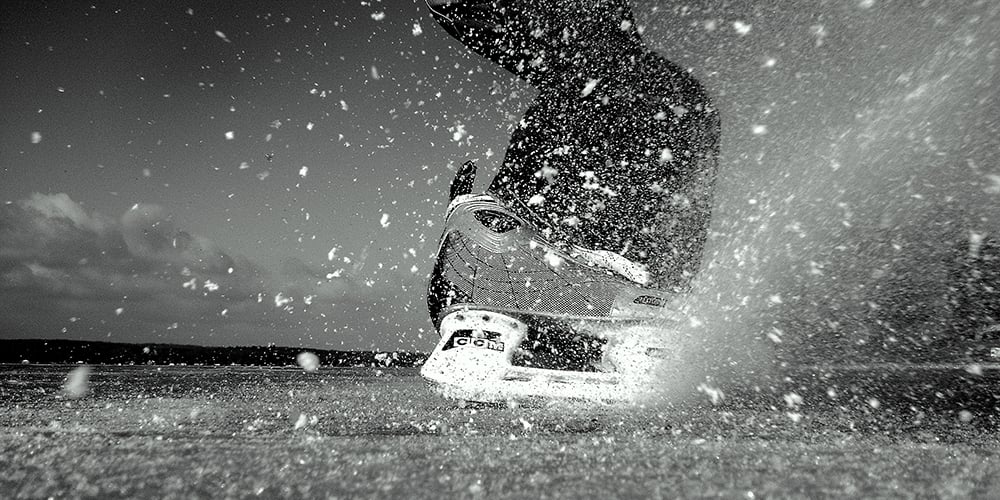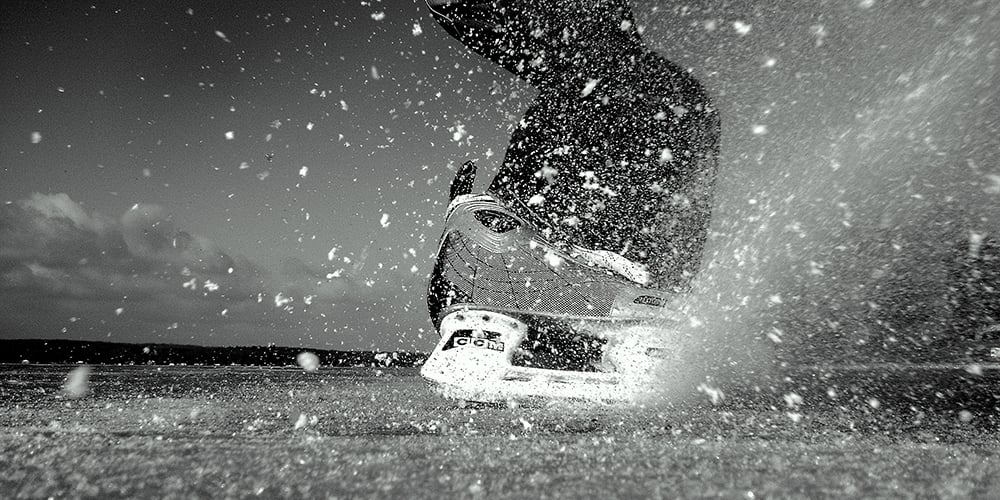 Anytime you are in your skates, your entire weight is held on the insoles. If this portion of the skate isn't fitting perfectly, performance can suffer, or worse, you can injure yourself.
The best way to get a perfect fit between the skate and the bottom of your foot is with custom orthotics. Custom orthotics are moulded to the shape of the foot, so they eliminate any gap from the foot to the skate. This close fit also improves how pressure is distributed on the bottom of the feet, reducing pressure points and improving comfort.
Hockey skate orthotics work differently than orthotics for most other uses. Most orthotics are made to guide your foot through a step from heel-strike to toe-off. When you're skating, though, your feet are not moving through steps the way they do when you walk or run. So instead of guiding your feet through a step, skate orthotics work by connecting your legs more directly to the skate.
Why Custom Skate Orthotics?
Without a custom orthotic in your skate, your arch drops and your foot rolls down and inwards when you push off until it hits the inside of the skate. Only when it finishes rolling in and hits the skate does the pushing energy from your legs make it to the skate and then to the ice.
A custom orthotic blocks that movement of the arch. When you push off, your arch is already in contact with the orthotic. It doesn't drop and your foot does not roll down and inwards. The pushing energy from your legs is immediately transferred through the orthotic into the skate and then to the ice. The same thing happens with cornering, stopping, and any other maneuver.
What this feels like is a faster, more responsive skate. You move, and the skate moves with you immediately. You get sharper turn-in, more immediate power when you push off, and quicker stopping. Playing with orthotics in your skates is like driving a car with high-performance tires. Without orthotics, it's more like driving on half-flat tires.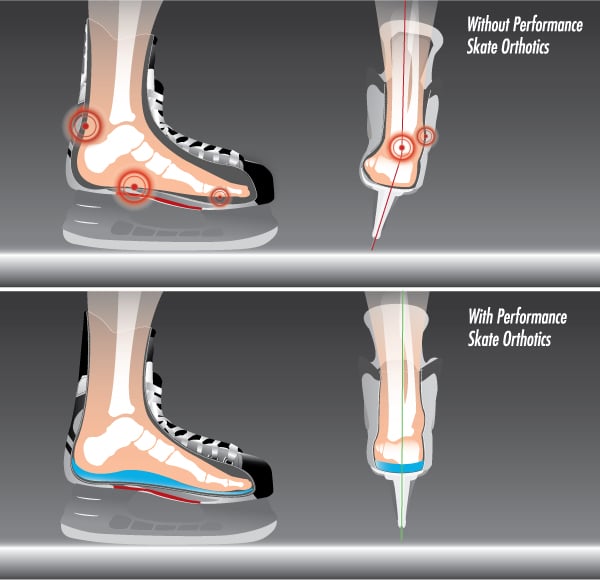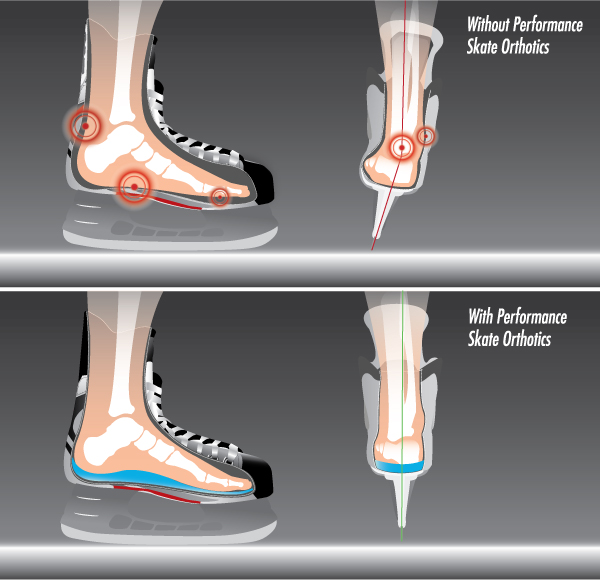 The Other Benefits of Skate Orthotics
Performance isn't all that orthotics do, though. Orthotics may help if your feet or lower leg muscles get sore. They can even help if your toes go numb when you've been skating for a while.
High-pressure points can cause pain and the tight clamping force of a tight-laced skate can cut off circulation. Depending on the shape of your legs and feet, your lower leg muscles may be overworked just trying to keep you stable.
By distributing pressure across the bottom of your foot, the pressure points are reduced and blood can flow better. This stabilizes your foot position can lessen the load on the stabilizing muscles. With more serious injuries, using orthotics both on- and off-ice can make a big difference. This includes plantar fasciitis, metatarsalgia or others.
When a pedorthist assesses you for orthotics, they may even have some recommendations for skate adjustments. This includes blade position and angle, so they work best with your feet.
If you want to make a difference in your skating performance, or if you just want to be more comfortable when the last buzzer goes, consider custom foot orthotics in your skates. Your feet and your team will thank you.
Ben Boyer
Kintec Lab Manager
Want to experience the Kintec difference?
If you have any questions, reserve a One2One orthotic appointment today. Our Canadian Certified Pedorthists will help fit you with a skate orthotic that serves your need.
Our One2One program will provide you with the highest level of safety and personalized service.
book an appointment