Dunham Revdare Shoe Review
The Dunham Revdare has a nice snug fit to start and breaks in well with minimal wearing. It feels very supportive as it hugs around the heel and instep. This shoe is comfortable enough to be in all day while working, at casual outings with friends and family, and even accompanying my wife's shopping trip for several hours.
If you have a wider forefoot you might need to try the wider width version of this shoe, but even in the standard width, the leather stretches out very generously. I was very happy to be able to fit my custom orthotics in this shoe very easily.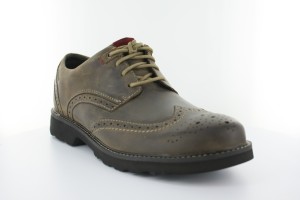 The Revdare is versatile enough to be dressed up or down, depending on how you feel. On top of that, this shoe is completely waterproof. My feet stayed completely dried as I walked through wet grass, a downpour, and even a car wash. I would recommend treating the leather upper on occasion to keep it looking fresh and clean.
If you are looking for a comfortable, supportive shoe with style, then the Dunham Revdare is the shoe for you.
Looking for something different? Check out more of our shoe reviews on the Kintec blog.
Ermin Pagtakhan
Kintec Pedorthist, Port Moody Store Manager