Obstacles
The winter sliding sport of bobsleigh is one that mimics climbing a mountain – and much like climbing a mountain, there are many obstacles on the way. The higher you get, the harder the obstacles are to overcome.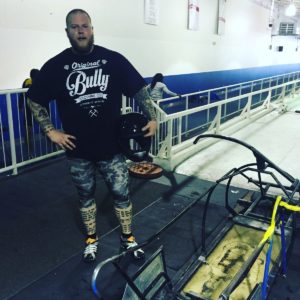 This sport has some initial barriers to participate, even before you ever slide. First, there are only four sliding facilities in North America, and only one indoor icehouse or push start track in North America. There are now four outdoor push track facilities in North America, but these are not on ice. Geography can be the biggest barrier to entry.
The next obstacle is ability. Each country has their own standards to achieve, and if you don't achieve them you don't slide competitively.
One of the biggest obstacles will always be politics and interpersonal relationships. The sport in itself is a business; faster/stronger is the mantra. To the higher ups, each athlete is just a push number and an interchangeable body, with the sole goal of having the fastest push time to compliment the ability of the drivers. Beyond that, you have Provincial Associations battling each other, and the National Association constantly calling up recruits.
The other biggest obstacle in bobsleigh is getting in the sled. As a brakeman, once you jump in the sled, you do not have any control of what happens until the run down the track is over. For many people, this is too much to handle; they do it once or twice, and then stop doing it.
Mentally, bobsleigh is the toughest sport in the world. When you are around the sport for many years, you hear it over and over again. Not just from sliders, but from many other world class athletes. NHL Defenseman Chris Chelios did one run down the track in Park City, Utah a few years back and refused to do a second.
This recent off-season, and start of season, I have been dealt my fair share of obstacles – many of which would cause most to stop and move on. A severe hamstring tear and a severe Achilles tendon strain have resulted in myself not getting sprint testing numbers or icehouse numbers. Those are the two key numbers that determine where and when you slide this season. Luckily, I have previous numbers which can be used. I have also been involved in an dispute between Provincial Associations as to who can slide with who.
However, one great thing about this sport is how close and tight knit most sliders are, even from different events. As seen from this picture of a recent icehouse session.
These guys always keep pushing you to push through the obstacles. Much like climbing a mountain, if you don't have a good safety system to keep you from going backwards, the obstacles become insurmountable.
As of writing this, I am confident I will be participating in races next week in Calgary, and hopefully later in the month in Whistler. Until then, we keep pushing and we keep working around those obstacles – the peak of the mountain is in sight.
Steve Stredulinsky
Kintec Sponsored Athlete