Not Your Everyday Shoe Store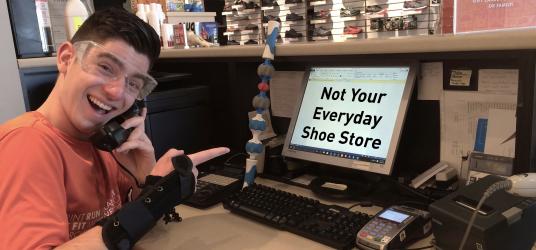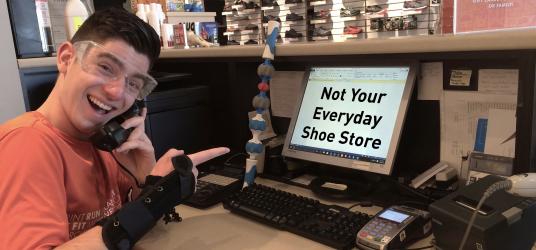 My job at Kintec is a lot more than just selling shoes. It isn't every day that you are able to provide a customer with the assistance that can actually change their life.
Working as a Pedorthic Assistant has given me a better idea of what my degree entails. It's very rewarding watching someone who had walked into the store limping leave with a bit more spring in their step.
As I prepared for my co-op interview, I went to the nearest Kintec location and checked them out myself. I walked in and was immediately greeted with a smile. A fellow co-op student taught me the key features of a supportive shoe such as heel counter, pitch/drop, torsional stress, cushioning, flex point, tread – and spent her time with me doing a gait analysis.
My co-op term at Kintec was filled with education on anatomy, customer service, lab training, and administration. The team at Kintec offered their full support and made me feel confident in my decisions. Over time, I was able to come to my own conclusions and provide customer service I was proud of.
Kintec puts in the time and energy to ensure you leave a satisfied customer, and that is something I truly value in a company.
Kintec's Five Step Guide
At Kintec, follow a five-step guide for each customer interaction:
1) Meet a Fitting Expert: This is the initial interaction between customer and Fitting Expert where I introduce myself. I find out what the customer is in need of, or what their referral is requesting.
2) Tell us about yourself: Before I pick a product, I get to know the customer better. Information such as what they do for a living will give me a better idea of who they are and what kind of physical conditions they spend the most time in. Based on their answers and my knowledge of our shoe selection, I recommend a shoe that will best suit their circumstances.
3) We tell you about your feet: Kintec offers a free gait analysis, where we look for indications such as angle discrepancies between calves and ankle, abduction/adduction of the toes, and the valgus/varus angles of the ankles.
4) Together, we select the right shoe: Some shoes have certain features that will compliment a flat foot or perhaps a high arch. At this point, I can use the information I have gathered from the customer and select a shoe.
5) Your fit guarantee: Kintec offers a 30-day comfort guarantee. If the shoe doesn't work for the customer, we allow time to return or exchange the product.
More Than Just A Shoe Store
Despite the common misconception, Kintec provides much more than supportive footwear. Kintec also offers appointments for custom orthotics/bracing, and sells off the shelf insoles, custom/off the shelf braces, spider tape, calf stretchers, compression socks and other devices that limit injury and pain. Another hands-on experience offered at Kintec is the lab modifications done on orthotics/insoles.
All of Kintec's products require specific training to fit them. Because of this, Kintec offers a lot of opportunity for growth. For example, you can become a Certified Compression Sock Fitter with Sigvaris, or a Fitting Expert for custom knee braces and supportive footwear. I've learned how to modify and apply metatarsal pads, arch cookies, heel lifts, forefoot extensions, and top covers.
My co-op term at Kintec has expanded my knowledge greatly. I've learned more about injuries from customer experiences at Kintec than I have sitting in a lecture hall, and I couldn't be happier with the end result.
Daniel Ciarniello
Kintec Co-op Student (Maple Ridge)