GORE-TEX & WHAT TO LOOK FOR IN WET WEATHER SHOES
It's November and the weather is turning.  Your runs now are taking place under the cover of clouds with rain falling onto both you and your feet; you're going to need waterproof footwear. Why? Because without it you're going to end up with wet, cold feet. Not only is that uncomfortable but can lead to blisters.  
As a precaution, you're searching for waterproof footwear but keep finding the term GTX showing up. In this article, we're going to help you understand what GTX or GORE-TEX is, and how it's going to keep your feet dry.  We will touch on what attributes you need your shoes to have when running on the road and trail, or hiking in the mountains in rainy weather. 
What is GORE-TEX, and what makes it waterproof?
GORE-TEX is a membrane. Each square inch of this membrane has 9 billion pores. Each of these pores is 20,000 times smaller than a water droplet. What that means is the size of the water droplet is larger than that of the pore, not allowing the droplet to squeeze through. While water can't get in, water vapor (a.k.a your sweat) can get out. These pores are 700 times bigger than a water vapor molecule, making the membrane breathable.
Now the GTX membrane is extremely thin (about 0.01mm). For it to be used in your footwear – the membrane is bonded to the outer lining of your shoe creating the GORE-TEX laminate. This is what makes your shoe waterproof.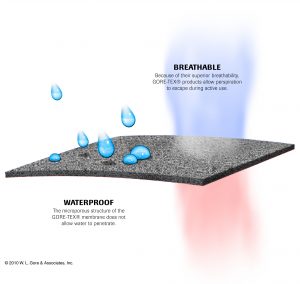 Now that you know what GORE-TEX is and why it's a useful feature to have when running in the rain, we're now going to help you understand a few other features your everyday runners, trail shoes, or hiking boots should have to be well prepared for the elements.
Every-day running shoes:
Road running shoes are designed, some might even suggest specialized, to offer maximal protection and support while running in a straight line on a hard surface.  Accordingly, they will often have thicker stack heights (i.e., the total thickness of the shoe's midsole and outsole under your foot), higher heel pitches (around 8-12mm), and have an upper made with light-weight and breathable materials. The combination of these features will maximize shock absorption during heel strike and optimize your running economy using lighter-weight materials.  A great roadrunner will make running feel effortless (or at least a lot easier) over a great distance on hard surfaces.  
However, as you might expect, the features that make road shoes light and breathable, make them less durable and waterproof when running in wet conditions or on muddy, slick trails. It's a good thing they also make trail runners when runners want to go off-piste!  
Trail running shoes:
Trail shoes come in three categories – Light Trail, Rugged Trail, and Off-Trail. Your objective should be to choose the style that will best serve your trail running adventure.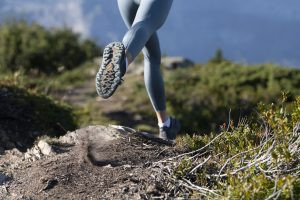 As the name suggests a Light Trail shoe will offer minimal protection from trail obstacles. These are good to use when running on gravel paths or rolling hills. They have shallow lugs that are best suited for an established trail with a harder surface. They are moderately stiff to promote stable foot placement. 
 A Rugged Trail shoe is best suited when running on a hiking trail. They have toe guards and plates underfoot to protect you from roots and rocks. They have resilient midsole cushioning to absorb shock when running downhill or when landing on harder surfaces. Lastly, they have lug patterns that improve grip and allow mud and soil to freely drop off. An important feature to have when running in the rain.  
An Off-Trail running shoe has the features of a Rugged Trail shoe, but with more resilient material. The structure of the shoe also provides better "torsional rigidity". This prevents twisting when running on uneven surfaces.
Hiking shoes:
With hiking boots good fit is essential. They need to fit sung on your feet without being too tight. To get that fit you need to know more than just your foot's length. It's important to measure the length and width of your arch, your in-step height, and ball width. For this reason, our fitting experts at Kintec are equipped with our 3D FitScanTM tool to capture these measurements and help get you that perfect fit.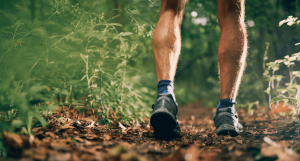 Other than fit, you need to consider your boot's stiffness which is determined by the material of the midsole. While stiff boots might not sound ideal, they will give you the support and comfort you require on a long hike with an uneven surface. The most common midsole materials are EVA or Polyurethane. EVA is lighter, while Polyurethane is firmer and better for extended backpacking trips. 
The last is the outsole. You want to pay attention to the lug pattern on the shoe. This is what provides traction. For rainy weather you want thicker lugs that are well spaced out, to improve grip and making it easier to get rid of mud. You would also want a boot with a heel brake. It will prevent you from sliding on steep slippery descents.
Now that you have an understanding of what to look for in wet-weather shoes, come in to visit a Kintec store near you. Our fitting experts will help find you the right fit!
Want to experience the Kintec difference?
If you have any questions, reserve a One2One appointment today. Our Fit Experts and Canadian Certified Pedorthists will help you find the right shoes for the rain.
Our One2One program will provide you with the highest level of safety and personalized service for all of your footwear needs.
book an appointment