Eastside 10k Race Report
Well – it looked like The Canada Running Series Eastside 10k was going to be a wet one. And it certainly was! To be honest, I really like running in the rain – must be my Northern English roots.
They had package pick up and bag check on the floor of a parking garage which was a surprisingly warm space (mainly due to the number of bodies sheltering in there). I kept warm in there until about 20 minutes prior to the start of the race. I got in a quick warm up and then headed to the start line area.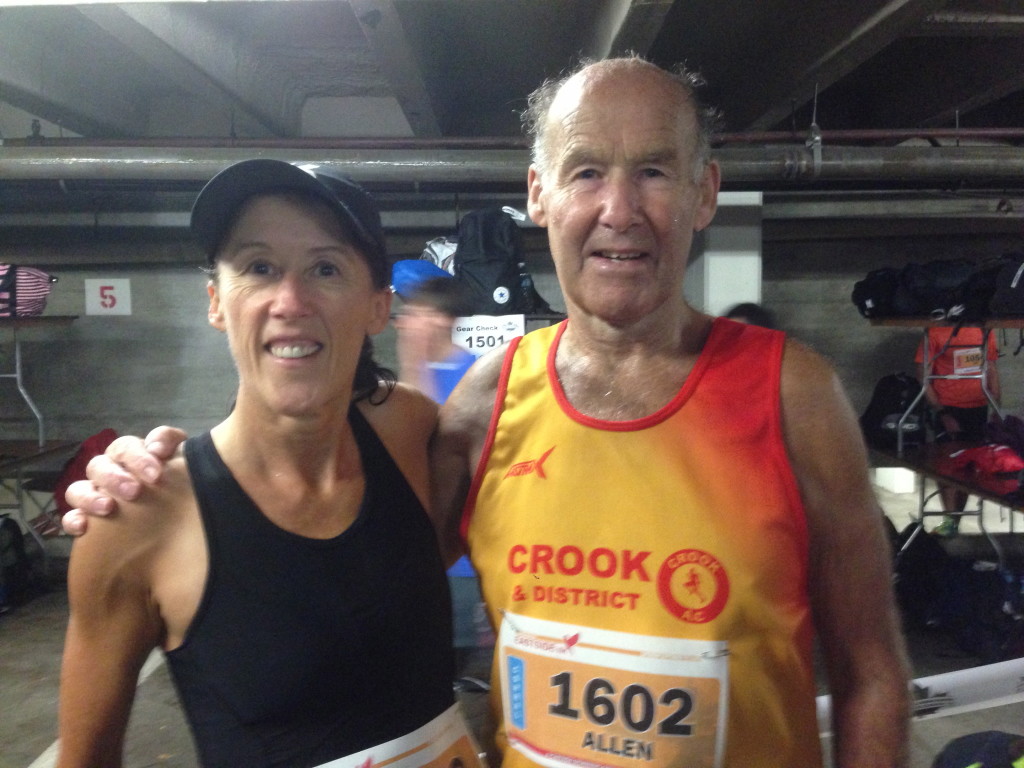 About 1,700 runners signed up for the Eastside 10k. This turned out to be a decent-sized race with some very competitive runners taking part. It was a little crowded for the first couple of kilometres. But, as expected, the field spread out soon after.
Initially, I tried to avoid the many puddles but it was kinda part of the fun.  The course ran through some of the downtown Eastside and Gastown with lots of undulations and turns. There wasn't a huge amount of spectators out there. But great to see a few who braved the very wet weather, so thanks!  As always, thanks to all of the awesome volunteers who often had to stand around out in the pouring rain.
I knew I wasn't 10k-fit; I'd only done a few speed workouts since completing Ironman 7 weeks ago. So I was happy enough with my time of 42:05.  I did slow down through the second half of the race but just held on enough for 2nd place in my age group (if only by 7 seconds!).  I have to say that 10k is certainly one of the toughest races.  The classic conversation in my head for the last 3 k was, only 12 more minutes or so (12m45s to be precise) and then, just 1 more km – you can do this, keep pushing.
It's funny but the races where you run the slower times are often way harder than the PB races where everything just falls into place.  But as always the effort is a much as you can give on any given day.
The post race food was great at this race – massive cookies, yoghurts, energy bars, bananas, mini bagels – always a little more welcome on the cold days.  They also have disposable jackets, which racers sure welcomed at the end. You suddenly get cold very quickly once your run is over.
My Dad was visiting from the UK so he was happy to be able to run in a race here in Vancouver.  He has been training with the same club in England for 30 years so proudly wore his Crook club vest.  He said he loved the race and had a great time (even in the pouring rain). Well done to my Dad, who is awesome! He finished in respectable 58:45 and placing 1st in his age group of 75-79!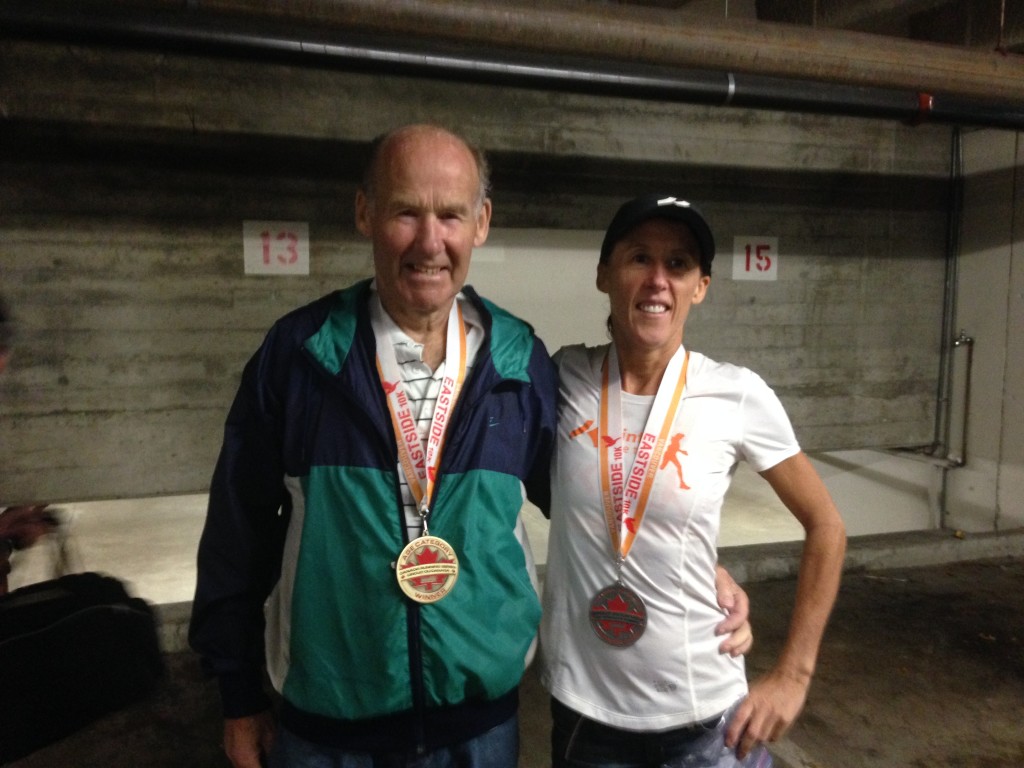 The event works with 4 key partners: Downtown Eastside Women's Centre, Watari Counselling & Support Services, Greater Vancouver Food Bank Society and the Breakfast Club of Canada.  It supports them through both fundraising and collecting goods.
"The Eastside 10k isn't only about running — it's about our community and our people."
This was a great event to be a part of! It was rewarding to work with and help to improve the lives of people within the community. I would highly recommend the Eastside 10k to anyone looking for a fun and well-organized race!
Thanks as always to Kintec – I totally value all of your support in my running and triathlon endeavours.
Janette Purdham
Kintec Race Team