CCAA National Cross Country Championships
Today, the UBC Okanagan men's and women's varsity Cross-Country teams travelled from Kelowna, British Columbia to Brockville, Ontario for the CCAA National Cross-Country Championships. It was a long day of travel, preceded by a long, gruelling season of training, racing, and (insert shudder here) too many ice baths to count!! But, we made it. We're here.
For now, it's time to rest.
NOVEMBER 13th, 2015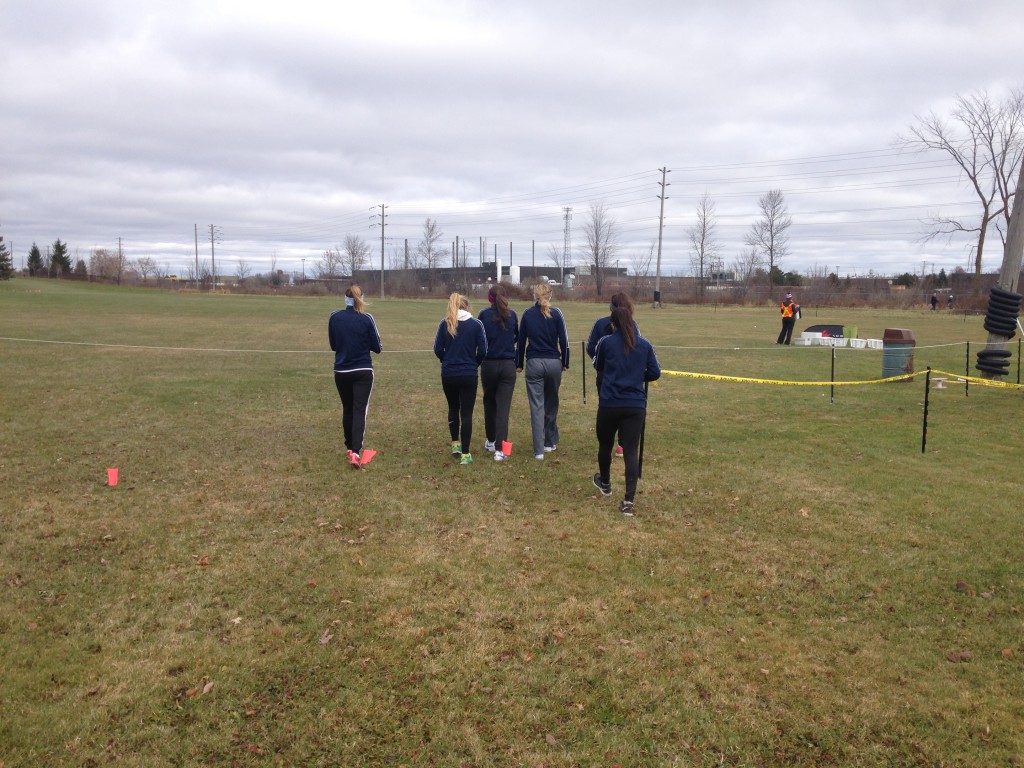 After a rough sleep for most, it's time for team breakfast before we headed to the course to check out how it is set up. With this information, I can formulate a strategic race plan that will allow each individual runner to maximize their potential on the course, affording us the best chance to place high in the standings.
We also checked out the shape the course is in, and after about 1km into our easy run on the course, we could all see it was going to be a sloppy race! If the course could be summed up in one word, that word would be MUD. There was a multitude of slippery sections throughout the course, which made me worry. All of our races had been in the Okanagan, under hot, dry conditions. Translation – no mud. With no experience in these conditions it becomes easier to slip and fall, and our chance of injury increases.
Once our course run-through was complete, we grabbed some lunch and headed back to the hotel to rest. For me, it was time to think. Being the only team in the PacWest conference, and having only results on paper to go by, I didn't know that much about the teams we'd be competing against on Saturday. So, I focused on how on training went, and the strengths of each of our athletes.
After dinner, it was time to share the game plan with the athletes. Once that discussion was complete, it was time for the athletes to finish their pre-race day mental preparation, settle the nerves, and get a good night's sleep.
NOVEMBER 14th, 2015 (RACE DAY!)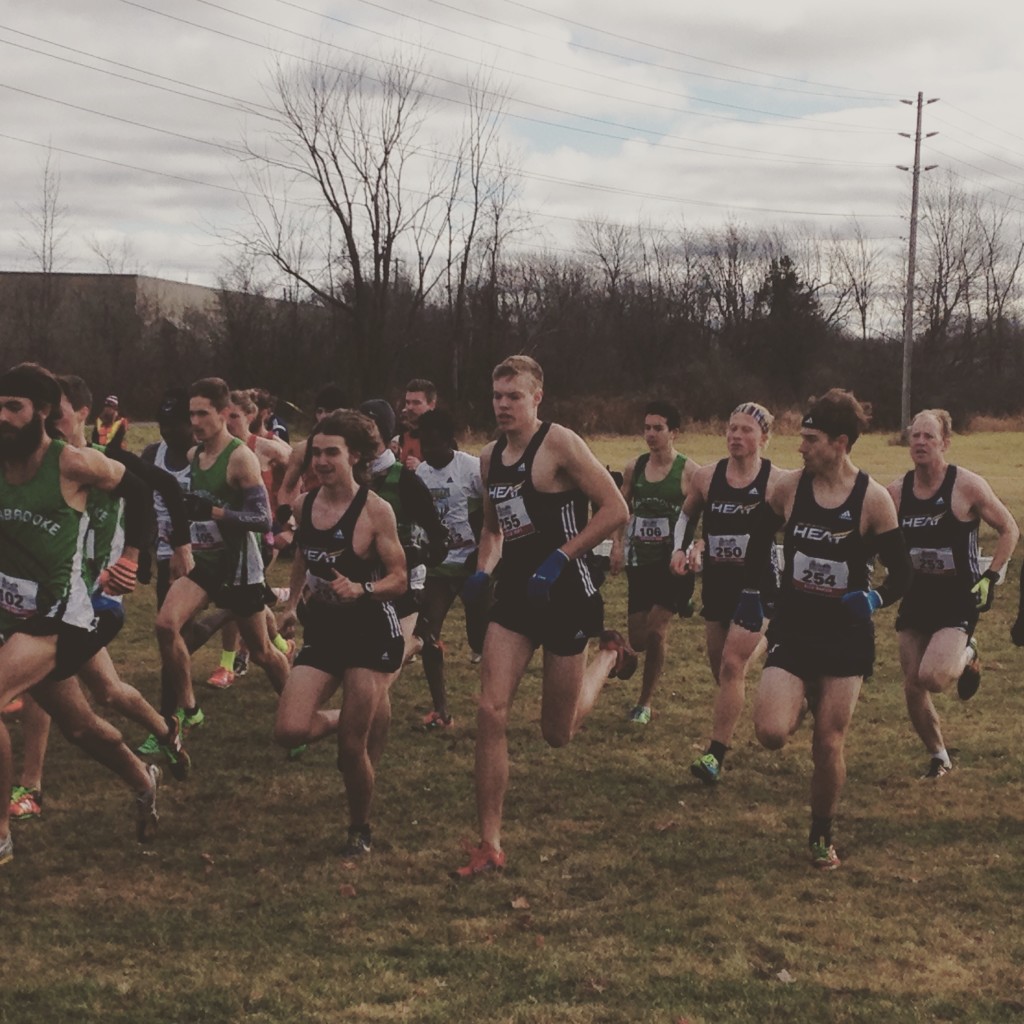 With the women's 5km race scheduled for 11 am, and the men's 8km race scheduled for 12 pm, the athletes all met in the breakfast room at 8:15 am. The conversation was minimal as the butterflies fluttered around each and every gut in the room. The women's team grabbed their gear and set off for the course at 9:45 am. After I race the course to check out if the conditions had changed (unfortunately, not much) the women began their warm-up at 10:20 am. Our Kintec shoes (Mizuno Sayonara's), which up to this point had been kept relatively clean in the dry conditions in the Okanagan, now bore the mud of Ontario! Once the women finished their warm-up run, drills, and strides, they were ready to race.
WOMEN'S 5KM
Our race plan was simple, stay conservative from the start. The long straightaway off the start allowed us to gradually work into a strong position, instead of sprinting and fighting for our spots in the pack. Veronika Fagan (West Kelowna, B.C.) and Camille Galloway (Whitehorse, Yukon), first and second-year nursing students, respectively, led the UBCO runners on the course, settling into the pack about a third of the way back. Following very closely were Anna Merino (Calgary, AB), Alison Gil (Calgary, AB), Julianna Neudorf (Yellowknife, N.W.T.), and Rachel Garrett (Vancouver, B.C.) Anna, in our first race of the season, suffered a terrible injury to her quadriceps muscle, and so the fact that she was racing today shows the grit, determination, and toughness it takes to be a cross-country runner.
The course set-up allowed me multiple opportunities to see the athletes, and yell words of encouragement. The UBCO ladies executed our race plan to perfection, slowly moving up in the pack, kilometre by kilometre. Team score is calculated as the combined finishing place of your top 4 runners. Veronika was our first runner across the line, followed by Camille, Alison, and Julianna. The four runners were separated by a mere 33 seconds!! Strong finishes were also turned in by Rachel and Anna. The courage these two ladies showed was inspiring to watch. We anxiously awaited the team scores, and the celebration began when we found out, with a combined score of 82 points, the UBC Okanagan women's team had just won the silver medal at CCAA Cross-Country Nationals!! I could not be more proud of every single woman on this team!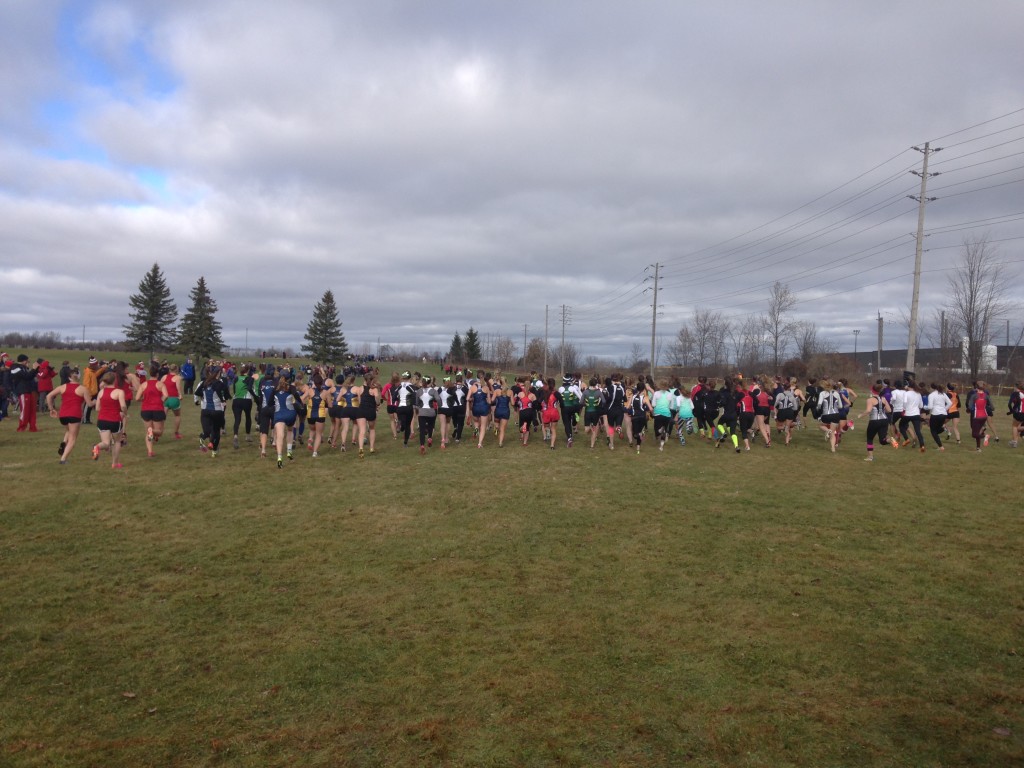 Men's 8KM
Our men's team, featuring rookies:
Niels De Vries (Calgary, A.B.)
Sam Goodrich (Prince George, B.C.)
Mike Mitchell (Kimberley, B.C.)
Cael Warner, 2nd-year runner and 2nd team all-star at the 2014 CCAA National meet in Calgary (Calgary, A.B.)
Alex Hansen, 3rd-year runner (Calgary, A.B.)
Mackenzie Wong, senior (Vancouver, B.C.)
This team ran kilometre after kilometre after kilometre this season, and now we only had 8 to go. The starter's pistol cracked, and the men were off. The Ontario, Alberta and Quebec conferences are strong, and that showed in the results. Still, the UBCO men showed grit and determination in battling their way to a top 10 finish overall (10th). Each runner gained experience, which was one positive to take away from the men's race. This experience will serve them in the future, giving us a more competitive edge next season.
Just like the women, I am proud of the work ethic shown by each individual runner on the men's team. They battled through some tough courses in preparing for Nationals. Furthermore, many of them faced a steep learning curve last August when we all met for the first time. I am anxiously awaiting next season; we will start preparing for in two weeks time, after some much-needed rest!
Thank you to Kintec, and all those that provided support and encouragement to our UBCO Cross-Country varsity program this year. We could not have done it without you! We look forward to rewarding your support with more medals next season!
GO HEAT!
Colin Wallace, MSc., CAT (C)
Head Coach – Men's and Women's Varsity Cross-Country Teams