Cambrian Barcelona 2 Shoe Review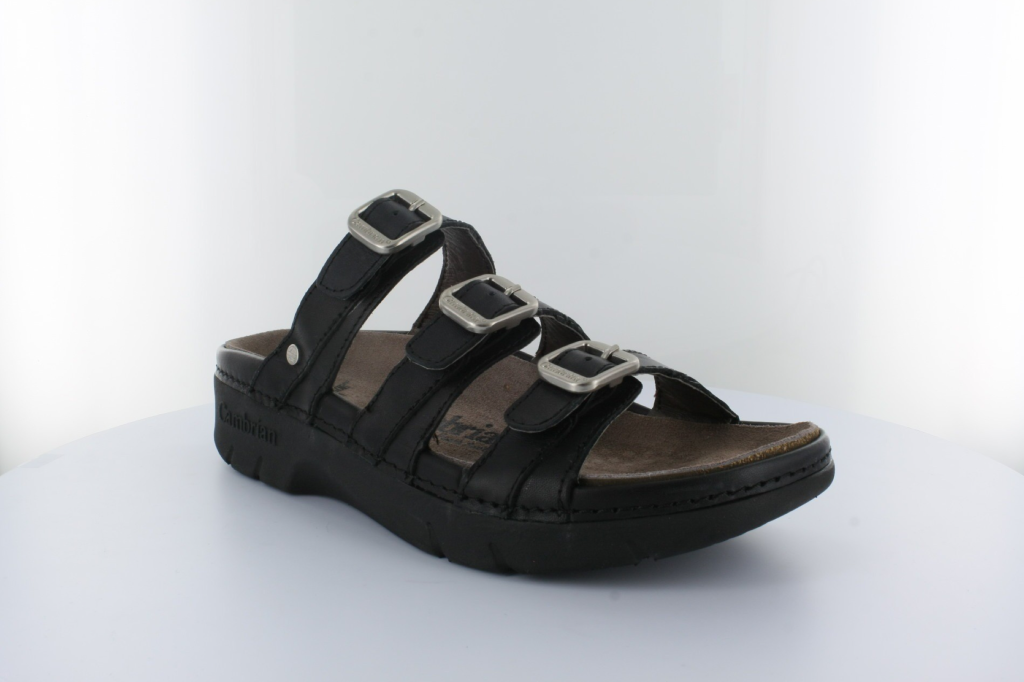 The Cambrian Barcelona 2 is a three-strap orthopedic slip-on sandal. This model has natural leather uppers and the straps come with buckles. These allow for width and instep adjustability. It is also possible to punch additional holes in the straps to tighten up the fit even more. It has a solidly constructed shank with a stiff forefoot rocker, which allows for smooth toeing off with walking. This is an added benefit for those who have conditions such as metatarsalgia, rheumatoid arthritis, or any restricted movement into the lower limb joints.
The sandal fits small, and you may even need to go up half to a full size. The forefoot toe box is wide and rounded, which accommodates a wide forefoot very well. It may be too wide and loose for very narrow feet, but an additional insole could be added to the bottom to increase bulk. Due to the harder sole and leathers, it takes a little time to break in. But, once the leather softens and the cork molds, it is fairly comfortable on the foot. The footbeds also have a suede leather top to them, which helps with cooling. The main downfall is that the tread is not very prominent, which may make it slippery on smooth surfaces. However, you can modify this sandal and use an outsole with more friction.
A removable cork arch contoured footbed allows the wearer to wear it as is for arch support, or to replace the footbed with their own custom orthotics.
Great as a summer-time sandal, or even an in-home option. It is best to keep the sandals out of the rain or from wet conditions, as it will damage the cork and the leathers. It is possible to treat the leathers and cork with waterproofing sprays before wearing to improve durability as well.
Mei Poon
Kintec Pedorthist