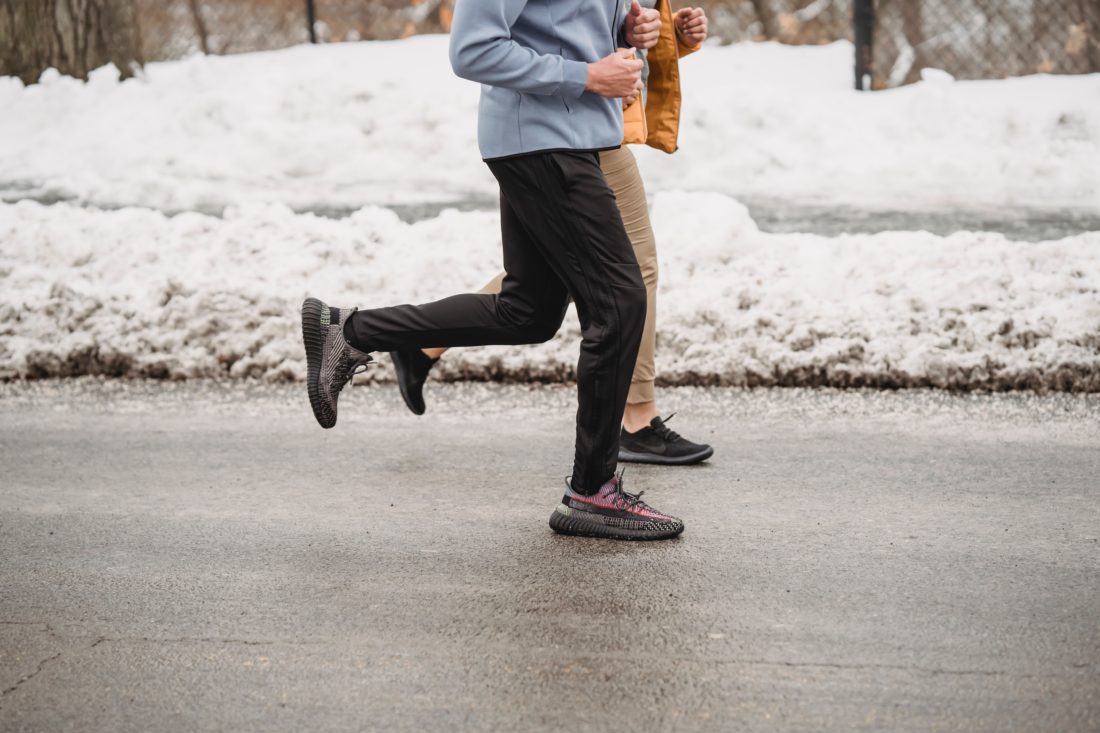 4 Features to Consider when Choosing Winter Footwear
With the recent wintry weather that we in BC have experienced, it is a perfect time to discuss appropriate footwear for winter conditions! Besides dealing with the risk of cold/wet feet, another issue that I'm sure we've all dealt with is slipping and sliding on slick terrain. Whether you are trying to shovel off the driveway without slipping or hiking to the peak of a mountain, I hope to provide some information on how footwear can help keep us all 'active and on our feet' over the winter months! 
If anyone knows me, they are probably aware that I have a lot of shoes! Working at Kintec has definitely contributed to that, but the main reason is that shoes are built with different features and intended for different purposes. For example, while it is possible to run in a dress shoe it will not be as comfortable as a running shoe for a 5k race!  
When we look at footwear for winter, there are also features that help certain shoes perform better than others. I want to go over some of the differences between shoes that are used for activity on the road versus the trail, some winter-specific footwear, tools for additional traction, and how these can all impact your ability to stay active over the winter! 
Here are some things to consider when choosing winter footwear:
1) Traction
In general, the shoes that we use for walking or running on the concrete use a firm, smooth rubber that is durable on a hard surface and provides adequate grip on the road or sidewalk. Shoes that are designed for use on the trail often use a softer, grippier rubber and have prominent lugs so that you have better traction on dirt, mud, roots, rocks and whatever you may come across! For use on snow and ice, a trail shoe will likely also provide better grip. Below are photos of a road running shoe (Brooks Ghost 14) on the left, and a trail running shoe (Nike Terra Kiger 7) on the right. You will notice that the black tread on the Brooks shoe is smooth and even, while the Nike shoe on the right has cleat-like protrusions. 

2) Stability
Walking on the road/sidewalk is obviously a very hard surface and the repetitive impact can contribute to increased stress on your body. Shoes that are designed for these hard surfaces often have a thick, soft cushioned midsole that helps to absorb that impact. On the other hand, when you are walking or running on a trail, the ground itself is usually much softer so the impact forces on your body are reduced. This means that shoes designed for trail use can have a thinner, firmer foam midsole layer so that you still feel stable on the softer surface underneath you. Because of this firmer base, a trail shoe will likely improve your feeling of stability when on slippery or uneven terrain, even in winter conditions. The photo on the left is an example of a thick, cushioned road running shoe, while the photo on the right is trail running shoe with a thinner midsole.  
3) Winter-Specific footwear
While it's clear that a trail shoe can help improve traction and stability on snowy, uneven terrain, there are still times in the winter when these features may not be enough to provide complete grip and stability. Some footwear companies have models designed specifically for winter walking and running. A great example is the Saucony Peregrine ICE+2. This shoe uses a special Vibram Arctic Grip outsole material that is specifically designed to work best in cold, icy conditions! Other brands also have outsole materials that are designed to provide better grip in cold temperatures, for example Salomon's Winter Contagrip is used in a number of their winter hiking boots. To improve your confidence on the snow and ice, consider using a winter-specific shoe.
4) Microspikes
Depending on the conditions, there are times when even winter-specific footwear will be unable to fully prevent slipping. However, there are devices that can be used with any shoe to help improve traction on ice and snow! Products like the Hillsound Equipment Freesteps 6 are a great example. They have a rubber harness that stretches over your shoe, and on the underside there are 21 stainless steel, 1/4" spikes that provide amazing grip even on the iciest terrain. These are a great item for anything from walking to running to hiking. Microspikes are ideal for any activity involving elevation changes and slopes, or any flat activity on hard-packed snow or ice. For the perfect set-up, I would recommend pairing these with a waterproof or insulated shoe to also keep your feet warm and dry! 
With all this being said, it is important to remember that everyone's feet and needs are different! If you have any questions or would like to talk about which options and features would work best for you, book a free One2One appointment at your nearest Kintec and we would be happy to help! 
Want to experience the Kintec difference?
Book a Footwear One2One appointment today. Our Fit Experts and Canadian Certified Pedorthists will help you find the right shoes for your winter activities.
Our One2One program will provide you with the highest level of safety and personalized service for all of your footwear needs.
book an appointment