What Is Olukai?
OluKai represents a revolutionary approach to the world of footwear. Born out of a vision to merge the resilience and durability of a waterman's ocean lifestyle with an island-inspired brand that embodies unwavering values, style, comfort, and exquisite craftsmanship, OluKai has emerged as a true game-changer in the industry.
Premium Craftmanship
OluKai meticulously crafts products that they can stand behind (and in!). Every creation is infused with quality, both in terms of materials and craftsmanship in construction. However, Olukai is not merely a footwear brand; it represents a philosophy rooted in heritage, sustainability, and remarkable craftsmanship.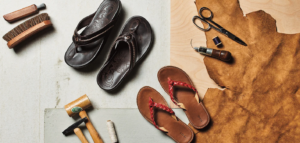 Every product Olukai designs must offer style, durability, and comfort from heel-to-toe. They pay close attention to every element of design, starting with the use of custom-made lasts and anatomical footbeds to ensure a superior fit. Premium materials are carefully selected to be beautiful, durable, and soft against your skin. Handcrafted details honor island culture with authentic artwork. Additionally, OluKai backs all their footwear with the peace of mind of a 1-year guarantee. Behind every pair is this commitment to quality for those who wear them and those who craft them.

OluKai only use the highest quality materials, selected for their high character, durability, and tactile features. Their premium leathers are selected for their warm tones, organic textures, and smooth finishes, while supple lining materials are carefully chosen to be soft against your skin.
A Journey Rooted In Tradition
Today, OluKai perceives our journey as a path interwoven with the legacy of ancestors who have handed down timeless stories, values, and spirit. As members of a global community, OluKai stands united as one interconnected 'ohana, a family bonded by shared aspirations. Paying homage to their Polynesian roots, all OluKai products are named after meaningful Polynesian words, recognizing that the Polynesian culture is a treasure trove of oral history, passed down through the art of storytelling. By employing Hawaiian terminology in their product names, OluKai strives to propagate and safeguard this rich cultural heritage for future generations to embrace.
Commitment To Sustainability

Olukai firmly believes that sustainability and living a positive life are not merely abstract concepts, but rather they manifest through the choices we make each day. Their mission is to inspire both themselves and others through tangible actions that shape a brighter future. Olukai pursues what they advocate, walking the walk to make a genuine difference.
In their quest for a sustainable future, OluKai actively seeks to minimize its environmental impact. By utilizing natural latex in gum rubbers, incorporating 30% recycled material in all outsoles, and employing 100% recycled materials for packaging, they take deliberate steps towards a more eco-conscious approach. Furthermore, they source all leathers exclusively from environmentally conscious ISO-14001 certified tanneries. OluKai firmly believes that by crafting high-quality, long-lasting footwear, they contribute to reducing their environmental footprint.
What makes OluKai Kintec approved?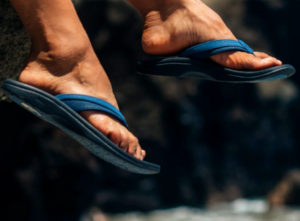 Anatomical design to align with the Fit element of our

Fit System

. The shoes are constructed in a way that promotes proper alignment and supports the natural contours of the foot, ensuring a comfortable and supportive fit.

The shoes have a wide base, accommodating different foot widths and providing ample room for a secure fit. This not only caters to individuals with varying foot sizes but also provides ample room and minimizes any discomfort that might arise from a narrow design.

Customizable support: The removable liner allows for the inclusion of additional supportive insoles or custom orthotics, catering to individual preferences and specific needs.

Comfortable! Attention to detail in the material and design process ensures a stylish but comfortable fit. 
What Models Does Kintec Carry?

Cruise the coastline or spend the afternoon at the farmer's market in your new everyday sneaker, the Pehuea Lī 'Ili. Classic and cool, it's made with premium full-grain leather to ensure you can comfortably slide from one adventure to the next. Olukai uses natural, high-character leathers. 

For an evening stroll or an afternoon spent sightseeing, the Makia Ulana Kai puts a premium on cushioning and rebound. The hydrophobic yarns and water-resistant panels will keep your feet dry on rainy days.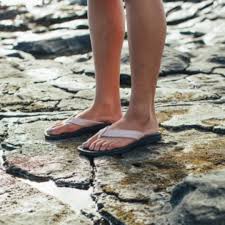 The classic Ohana is your go-to choice for an everyday sandal. Being a water-resistant sandal with a smooth drop-in footbed for the perfect anatomical fit, the 'Ohana makes your feet feel at home.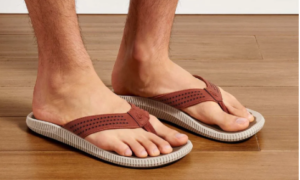 This water-friendly style embodies everything you love about your favorite sneakers—lightweight, versatile, modern—but with the ease of a sandal.
Why Are OluKai Sandals And Shoes So Comfortable?

OluKai has established a well-deserved reputation for crafting sandals and shoes that offer an unmatched level of comfort. What sets their footwear apart is the meticulous combination of premium materials and thoughtfully contoured shapes that form the very foundation of each design. At the heart of every OluKai creation lies an anatomical footbed—an ingeniously engineered shape that not only supports your entire foot but also allows it to move naturally and effortlessly through each stride.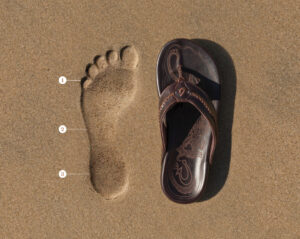 It all begins with Olukai's Wet Sand Principle™. Drawing inspiration from the sensation of bare feet sinking into wet sand, OluKai designs its sandals and footwear to replicate this feeling. With an uncanny ability to cradle the heel, fill the arch, and splay the toes, OluKai shoes mold to the foot, adapting to its unique shape and contours. OluKai's deep heel contour serves to center, align, and provide steadfast support to the foot, ensuring stability and effective shock absorption. The anatomically shaped arch and contoured footbed delivers all-day comfort. Moreover, the spacious toe box enables natural toe splaying without any constrictions. In essence, OluKai's commitment to support begins from the ground up.
Olukai considers the arch as the foundation of your foot's strength. The greater the arch support, the more balanced your entire body becomes. This equilibrium not only alleviates hip, knee, and back pain but also enhances posture, promoting overall well-being. OluKai meticulously constructs all their footwear with an anatomically correct arch support. As a result, many customers have reported a noticeable reduction in pain.
Makai vs. Mauka
OluKai offers two types of footwear: Makai, or "towards the sea," and Mauka, or "towards the land." Makai shoes, such as the Olukai Ohana, are water friendly and 100% vegan (all synthetic materials and no animal products). Mauka shoes, such as the  Pehuea Li 'Ili, are made from leather, canvas, and twill, and are meant for wearing on land. Both types are made to the highest standards of quality.
How To Wash And Care For Your Olukai Footwear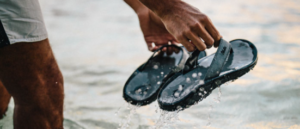 Remove Insoles and Laces (if applicable)
Start by removing your shoes' footbeds and laces and place into a mesh, washable delicates bag. Toss the delicates bag containing your insoles and laces into the washing machine; use a delicate cycle with your preferred mild laundry detergent.
Skip this step if you are cleaning your sandals.
Remove excess dirt or debris
Remove excess dirt or debris from your sandals or shoes with a gentle bristle brush or towel
Hand wash your sandals or shoes
Hand wash using a gentle bristle brush and a cold water, mild detergent solution. Brush gently in a circular motion; if needed, go over stains multiple times to remove
Let your sandals or shoes air-dry
Dry any excess moisture with a towel and let sandals air-dry until you're ready for your next adventure!
How Can Kintec Help?
Your feet are your foundation, and we understand how foot pain, discomfort, and injury can have a big impact on your life. It's why we're so passionate about helping you find the perfect fit—so you can move better and go further than you ever thought possible.
During your 30- minute appointment with our Fit Experts, they will perform a thorough analysis of your feet, biomechanics, and history.  This will guide them to help fit you with a sandal that meets your needs.


When it comes to finding the right sandals, fit is the most important component. That's why we developed our touchless 3D FitScan™ Technology. Within seconds, it captures thousands of data points to provide 10 specific measurements of your unique feet. It uses an artificial intelligence system with a worldwide database of over 5 million scans to compare individuals' footwear preferences with your specific foot shape!
Additionally, there are a lot of technical components that go into every sandal or shoe. These functional elements play an important role in how the shoe aids with walking or reduces pain. Together we will guide you through which elements apply to your needs.
Most importantly, we want you to feel the comfort and benefit of your perfect fit. Test your footwear in-store and leave with the confidence to move better and go further than you ever thought possible.
Since 1991, we've helped more than half a million customers find the perfect fit. We love staying active and helping you do the same.
If you have any questions, please call us at 604-200-3338 or make an appointment to visit us in-store.