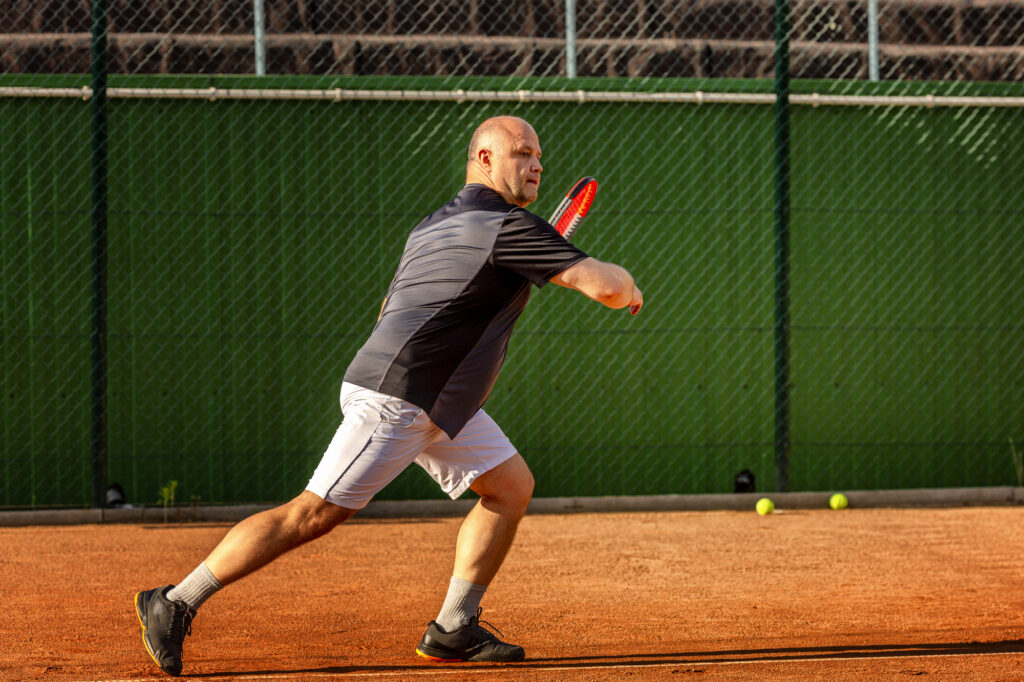 Are you someone who enjoys spending evenings at the gym? Or maybe you play an organized sport a few nights a week? 

There is nothing more frustrating than pain stopping you from doing what you love. Give your feet the support they need with orthotics specifically designed for high-impact, multidirectional movements! Our custom orthotics are made to suit not only your medical needs, but also your lifestyle and activities. Each orthotic design is optimized for the specific sport, activity, or medical conditions. Plus, you'll love that our general sport orthotic is designed to fit cross-trainers or fitness shoes.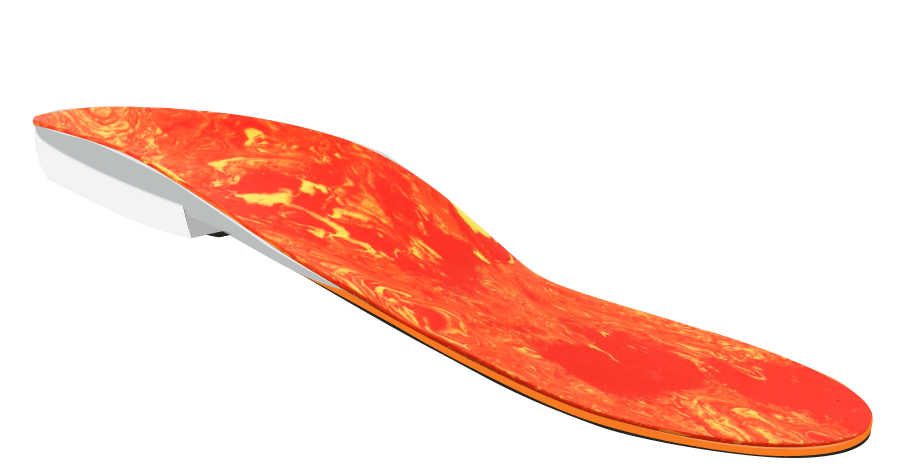 The blog will discuss how you can benefit from our general sport orthotic. Are you ready to stay active on your feet for life?

Energy Return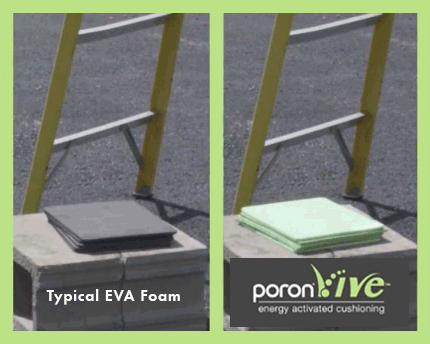 The general sport orthotics feature Poron Vive cushioning in the forefoot, which offers high rebound properties. This means that you can spend more time on your feet, engaging in multidirectional movements, without experiencing fatigue or discomfort. With each step, your feet will receive the energy they need to power through your workout sessions with ease.
Enhanced Foot-To-Shoe Fit During Multi-Directional Movement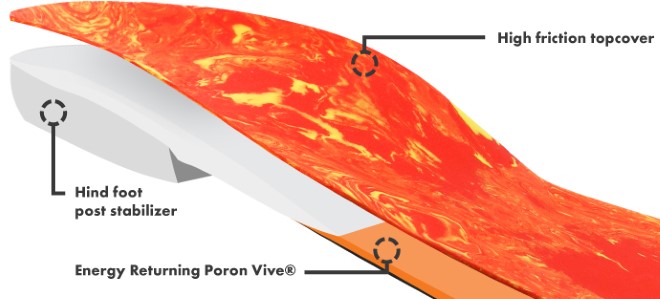 We understand the importance of maintaining stability and grip during dynamic movements. That's why our general sport orthotics come with a fireswirl micro-EVA topcover that enhances the foot-to-shoe fit. This porous nature of the micro-EVA topcover increases the grip between your foot and the orthotic, ensuring optimal stability throughout various multidirectional exercises. No more worrying about your feet sliding or shifting within your shoes!
Hindfoot stabilizer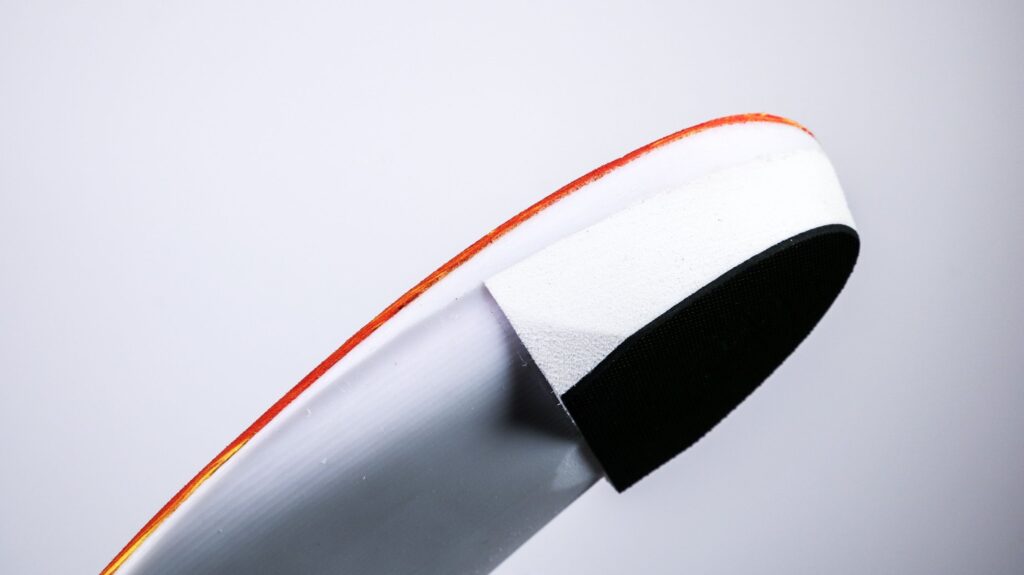 Weightlifting and certain movements, such as stepping down, can impose substantial loads on your feet, exceeding your body weight. To tackle these challenges, our orthotics incorporate a heel stabilizer. This component provides durable support to your feet, reducing the risk of injuries and enhancing overall stability during high-intensity workouts. You can confidently push your limits, knowing that your feet are well-supported.
Why Should You Choose Activity-Based Orthotics?

Our line of custom orthotics are specifically designed for you and your activities. 
We can create over 20,000 combinations of orthotics specific to your lifestyle needs by using materials with different thickness, cushioning and energy return rates.
Activity-specific orthotics will:

Fit better with streamlined profiles to match different shoes

Feel better with lighter and more durable high-tech materials

Perform better with activity-specific functions and benefits
You can view all our activity specific orthotics here.
Your Guide To Wearing Custom Orthotics
We often get asked how long it will take to break-in your custom orthotics.While this varies from person to person, but it can take up to 3 weeks to get used to wearing your new orthotics. It is very important to follow the break-in procedure with orthotics to minimize the risk of discomfort or injury.
Your new orthotics will likely feel different or 'weird' in your shoes but they should not be uncomfortable.
STAGE 1: CASUAL USE
Wear your orthotics for short periods of time as comfort allows. Start with 1 hour the first day, then increase by an hour each day if comfortable. Remove your orthotics as soon as they start to feel uncomfortable and give your feet a rest for 2 hours. Following the rest period, place your orthotics back in your shoes. Within 3 weeks, you should be able to wear your orthotics all day.
STAGE 2: STRENUOUS ACTIVITY AND WORK
Stage 2 starts when you can wear your orthotics all the time for casual use. Follow the steps of Stage 1 to introduce your orthotics into your sporting or strenuous work activities.
If you are in a sports team, it is a good idea to get used to your orthotics during practices before wearing them in a competitive situation. If you are not able to increase the time wearing your orthotics each day or you are not able to wear your orthotics comfortably after 3 weeks, contact your Kintec Pedorthist to book your free adjustment consultation.
How Can Kintec Help?
When you schedule an appointment with a Kintec pedorthist, they will perform a comprehensive biomechanical examination. Our fitting procedure begins with gaining insights into your lifestyle. Then, we utilize a biomechanical assessment and video gait analysis to gain a deeper understanding of how the mechanics of your feet are impacting the alignment of your legs and the overall functioning of your body.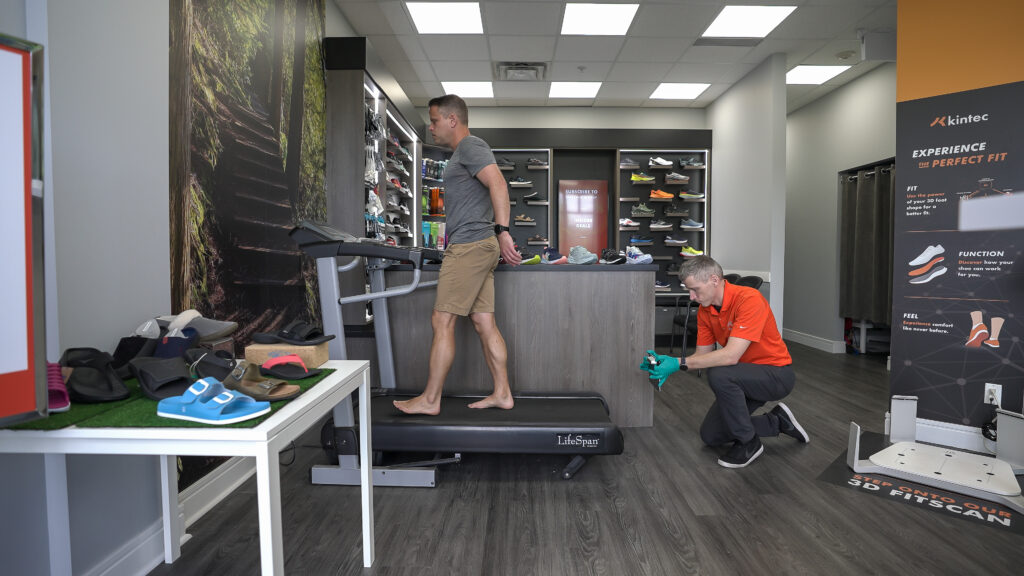 Our Canadian Certified Pedorthist will carefully evaluate your medical history and examine your feet. Based on their findings, they will develop a personalized treatment plan that may include our walking orthotic design. 
Our goal with assessment and treatment is to:
provide you with education, support, and a personalized treatment plan

minimize your pain 

help you stay active on your feet, for life
If you have any questions, please call us at 604-200-3338 or make an appointment to visit us in-store.