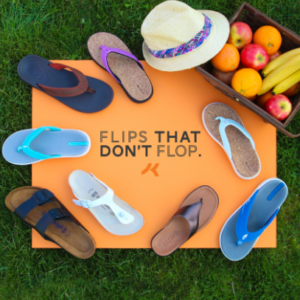 Summer is right around the corner! There is nothing better on a hot summer day than sliding on a pair of flip flops. That is, unless your flip-flops cause sore, achy feet. Don't let foot pain get in the way of doing the things you love. Switch to sandals that are supportive and stylish so you can enjoy a pain-free summer.
Flimsy flip flops might separate your feet from the hot cement or sand, but that's about all they're good for. Sunny days should be all about enjoying yourself – not ending your beach day early due to sore feet.
At Kintec, we carry a wide range of stylish and supportive sandals that will keep your feet supported all day long, so you can enjoy those summer days to their full potential.
Here's Why You Should Ditch Your Flimsy Flip Flops
The reason why so many people are experiencing foot pain while wearing flip flops is that the average flip flop doesn't support your biomechanics, and has little to no shock absorption. In turn, they make your body work harder when compared to walking barefoot.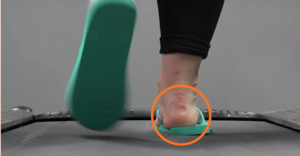 Take a look at the design of an average flip flop. This type of shoe has a flat, super soft foam platform; it's very comparable to a portable gymnastic mat. The only thing holding all of it together is two straps secured with a toe peg. This design creates a jarring sensation and an unstable environment – which the body must accommodate for with each step.
The body adapts to the stress of walking on flip flops by engaging the stabilizing tissues in the lower legs or feet. Muscles such as the posterior tibialis and the peroneals become fatigued from balancing on a soft, spongy surface. The extreme tension in every step puts harm on connective tissues, such as the plantar fascia and Achilles tendons.
When the force becomes too much for those tissues, micro-tears develop. This results in inflammation as the body fights to heal itself. Inflammation of a muscle or connective tissue translates to the pain you experience when you take a step.
Additionally, as seen in the image above, the lack of structure and support causes your heel to come off the side of the flip flop.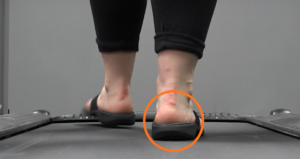 On the other hand, supportive sandals are designed to help cushion and cradle your feet. As pictured above, the sandals stay close to the arch and support your feet thanks to the engineering in the midsole. The heel also stays within the heel cup.
If you have foot pain, supportive sandals will do a much better job of supporting your feet. Plus you can wear sandals all year round. If you normally wear orthotics, supportive sandals are great for when you are at home and on your feet.
5 Tips To Find The Right Pair Of Sandals
Like any piece of footwear, it's important to take into consideration not just your activities, but also your foot type when you're out sandal shopping. You may require one, or several, of the following features.
1. Supportive arches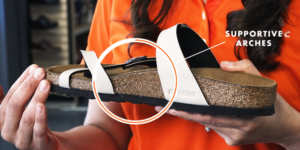 Giving your arches the support they need can help improve your posture. Properly fitted arch support, significantly improves your body alignment and maintains the natural curvature of your feet. This, in turn, helps alleviate strain on the muscles, ligaments, and tendons that support the arch, ultimately enhancing your posture.
Moreover, the benefits of proper arch support extend beyond posture improvement. It can also play a pivotal role in preventing and treating various chronic foot and lower limb conditions, such as plantar fasciitis. Plantar fasciitis, characterized by inflammation and pain in the plantar fascia—a band of tissue that connects the heel bone to the toes—can be exacerbated by inadequate arch support. By providing the necessary support, arch support helps alleviate stress on the plantar fascia and aids in the recovery process.
2. Deep Heel Cup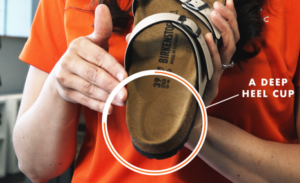 Think of a deep heel cup as a container that holds your heel in place and supports it from all sides. A deep heel cup helps to keep the heel stable within the shoe as well as helps buffer your heel's natural fat pad. This fat pad serves as a natural shock absorber, providing cushioning and protection against impact forces generated during activities like walking or running. By offering a secure enclosure and cushioning effect, the deep heel cup helps preserve the integrity of the fat pad, minimizing discomfort and reducing the risk of injuries related to inadequate heel support.
3. Metatarsal Pad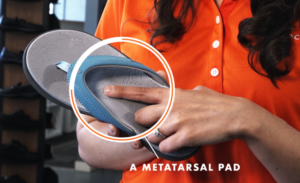 Also known as 'met pads', these help support and spread out the transverse arch, which runs across the width of your forefoot.
Metatarsal pads help prevent forefoot pain and neuromas stemming from pinched nerves in between your metatarsal joints – which are like the knuckles of your feet. Metatarsal pads are used to help spread your transverse arch that runs across the width of your forefoot, promoting the return of your overextended toes to their natural position.
4. Removable Footbed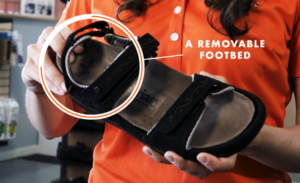 If you wear custom orthotics, look for sandals with a removable footbed. You will be able to add your own custom orthotics, making them more comfortable because they're customized to your feet.
Furthermore, the availability of customized top covers that match the material of the sandals allows for a harmonious integration of the orthotic and sandal, ensuring a cohesive and comfortable fit. This customization option not only enhances the functionality of the sandals but also adds a touch of personalization to your footwear.
5. Adjustable Closures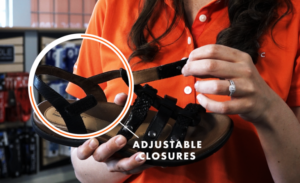 For individuals with specific foot characteristics, such as wide feet, high arches, or bunions, finding sandals with adjustable closures may be beneficial. Adjustable closures, such as straps or buckles, provide a practical and customizable solution to accommodate the unique shape and dimensions of your feet.
By eliminating pressure points and accommodating the natural contours of your feet, adjustable closures promote a proper fit and minimize discomfort during prolonged use. Moreover, individuals with conditions like bunions can benefit from the ability to customize the fit around the affected area, reducing friction, irritation, and potential exacerbation of symptoms.
Sandals That Will Support Your Feet
Olukai Ohana
Looking for a sandal to wear to the beach? Olukai Ohana's water-resistant upper and enhanced traction on wet surfaces provides you with the versatility to transition from the beach to the street.
Olukai's sandals are inspired by the feeling of bare feet on wet sand. The anatomically contoured footbeds deliver instant comfort and lasting support. The best-selling Ohana offers cushioning that will allow you to go all day long.
Ora Slide 3
The Hoka Ora Slide 3 is a comfort-driven style designed for downtime. This sustainable spinoff of the classic slides lightweight and offers an earth-friendly sugarcane footbed. The ORA Slide 3 delivers foot-cradling comfort with it's cushioned midsole.
The rocker profile of the Ora slide aids with transitioning from your heels to toes when walking. This is beneficial for patients who suffer from 1st MTP Arthritis, plantar fasciitis, or injuries where the patient has limited mobility in their foot. Additionally, rocker shoes also help take the load off of the ankle, calf, and achilles tendon aiding in recovery after exercise.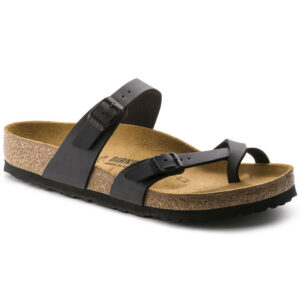 Birkenstock Mayari
Why sacrifice fashion for comfort? The Birkenstock Mayari is the perfect marriage of form and function. The footbed of each Birkenstock sandal has both cross- and longitudinal- arch supports, to maximally distribute pressure on the foot.
A deep heel cup promotes proper heel alignment, and the toe bar guides the toes in a natural motion. The footbed edge is elevated to protect the toes, and the suede leather lining is a comfortable top to the flexible cork latex base.
How Can Kintec Help?
Your feet are your foundation, and we understand how foot pain, discomfort and injury can have a big impact on your life. It's why we're so passionate about helping you find the perfect fit—so you can move better and go further than you ever thought possible.
During your 30- minute appointment with our Fit Experts, they will perform a thorough analysis of your feet, biomechanics, and history. This will guide them to help fit you with a sandal that meets your needs.
When it comes to finding the right sandals, fit is the most important component. That's why we developed our touchless 3D FitScan™ Technology. Within seconds, it captures thousands of data-points to provide 10 specific measurements of your unique feet. It uses an artificial intelligence system with a worldwide database of over 5 million scans to compare individuals' footwear preferences with your specific foot shape!
Additionally, there are a lot of technical components that go into every sandal. These functional elements play an important role in how the sandal aids with walking or reduces pain. Together we will guide you through which elements apply to your needs.
Most importantly, we want you to feel the comfort and benefit of your perfect fit. Test your sandals in-store and leave with the confidence to move better and go further than you ever thought possible.
Since 1991, we've helped more than half a million customers find the perfect fit. We love staying active and helping you do the same.
If you have any questions, please call us at 604-200-3338 or make an appointment to visit us in-store.