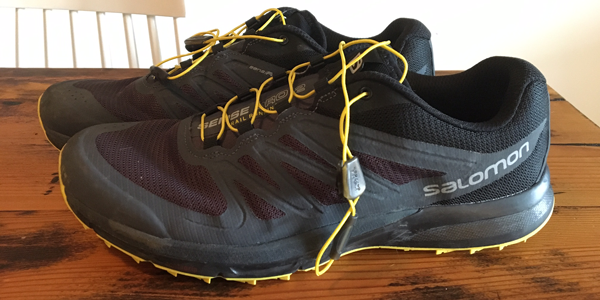 Salomon Sense Pro 2 Shoe Review
Here we have Salomon's mid-range shoe; it's not their race model, nor is it their fully beefed out hiker model. Sense 2 Pro has a good middle ground, with enough cushion for the long haul. But, it's still not a shoe that you would take out to hike Everest in.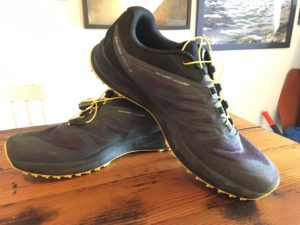 Here are a few basic stats of the shoe: My men's size 10 it weighed in at 9.3 ounces, which is a relatively average weight for this type of trail runner. It has a 6-mm drop, for a stack height of 23-mm down to 17-mm.
The upper is structured enough to give you decent support, with welded overlays and a senso-fit secure tongue system. But it definitely did not feel like it has too much extra looming materials, which is good for heat and also good in the water drainage department.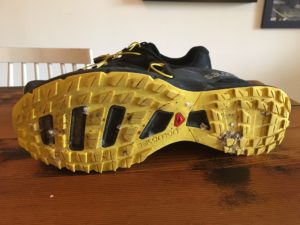 My feet are slightly narrow, and Sense Pro 2 hugged my feet nicely. This shoe didn't get too hot while I was out running on some seriously hot days.
I also really like what Salomon has done without here lace systems, how they never really come undone and you can tuck the pulley device up into the stash pocket of the tongue – good stuff!
Next, we work our way down to the outsole of the shoe – and this is my favourite part!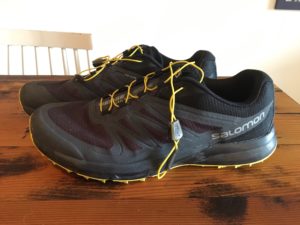 Sense Pro 2 is extremely responsive for a trail shoe! It felt amazing, which probably had to do with the hard rubber on the outsole, as well as the pro feel from the rock plate Salomon used.
It gives the toe off of the shoe a swift snap back that helps propel the foot forward.
Combine this with the amazingly sticky, but not to aggressively lugged bottom, and these things do great on the trails.
Overall Impression
In my opinion, Salomon has created a great trail shoe for medium to long distances here, but you could wear this shoe for everything.
Star Rating
★★★★½
Why?
I feel they could do a little better in the visual department, but that is entirely my opinion.
Other than that, it's a wonderful trail running shoe for a decent price.
Jesse Booi
Kintec Race Team