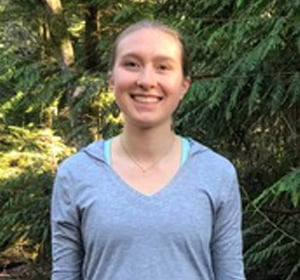 Meghan Little
Hometown
North Vancouver, BC
Resides
North Vancouver, BC
I've always done sports with running in them, whether it was soccer, field hockey, or volleyball (Is there running in volleyball?). I started running on its own with my parents near the beginning of high school.
I started with 5km and gradually made my way up to longer distances. I still remember the first time I ran 10km, I thought to myself, Hey! This is isn't that long. I should do a half marathon! And that's what I did.
Now, I find myself longing for longer runs. I'm hoping to do my first marathon and 50km in 2018! Another favourite event of mine is the Multi-Grind Challenge at Grouse Mountain. Last year, I completed 6 Grouse Grinds in one day. This year, I am aiming for 10.
The reasons why I love running are simple: I love being outside, I love how it can be as easy or as hard as I want it to be, I love being able to connect with myself and others through running, and, most of all, it's fun!
I also have a passion for protecting the environment and educating people on how their actions affect the health of the planet. I have been vegan for over 3 years for this reason, among others, and try my best to reduce the amount of plastic I use. I am the leader of the environmental club at my high school and I love being able to make a change for the better.
Finished 2nd at a 10km race in Richmond, England
2016 & 2017 cross country provincials