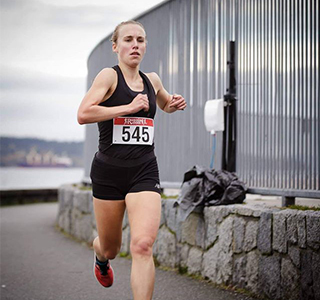 Lissa Zimmer
Hometown
Los Gatos, California, USA 
What are your 2019/2020 goals?
Qualify and compete at the US Olympic Trials Marathon 2020 .
Where is your favorite place to run?
Whistler, North Vancouver Demonstration Forest Road, or Vancouver Pacific Spirit Park.
Music, podcast, or the sound of your breathing?
A bit of both: I love music for easy running and the sound of my breathing for workouts. I don't listen to music in races, so I won't add this for stimulation in workouts. 
Handheld, running vest or aid station?
Recently I've started wearing a running vest for my work run commutes! I like that it comes with multiple compartments for cell phone and essentials, it sits flat against my back, and moves amazingly well with my body as I run.
What's the worst injury you've had and how did you get over it?
This maybe isn't my worst injury but it's by far a winner for longest recovery – Upper Hamstring Tendinitis/Piriformis Syndrome. What helped this condition was rest, stretching and strengthening parts of my body that were weak and lazy (weak quads and glutes). 
What do you think about when you are running and how do you push yourself to go further, harder or longer?
When I'm easy running or running long I think about anything and everything. However, in a race like a marathon, I'll try to meditate and think as little as possible so I'm able to conserve mental strength for later. A strategy I use to help me go harder or longer is to break up a run into individual miles or kilometers. This way, I only need to focus on the segment I'm in.

What's the one piece of advice you would give to any runner?
Be consistent, be patient and always think longevity. For runners, new or seasoned veterans, always listen to your body and remember running can be a lifetime sport if you want it to be.
Goodlife Fitness Victoria Marathon 2017 – 1st Place Female and BC Champion

California International Marathon 2016 – 7th Place Female 2:42:00 (PB)
Boston Marathon 2015 – 18th Place Female 2:44:5