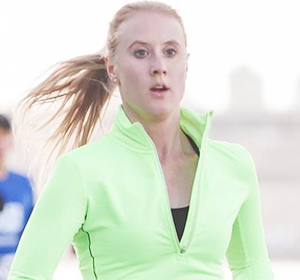 Kristin Ohm-Pedersen
Hometown
North Vancouver, BC
Resides
North Vancouver, BC
I have always been an athlete, but my sport growing up and throughout school was volleyball. In my Human Kinetics undergraduate at UBC, we began running and doing endurance testing. When I tried to run longer than around the block, I was breathless and felt completely out of shape. It was a bit of a wake-up call and I set a long-term goal of running a marathon. I took my time slowly building up my distance and endurance and in 2007 ran my first half-marathon.
From there I progressed to the full-marathon distance and then ultramarathons. I have run nearly 30 ultras, mostly at the 50km distance, but also a couple of 50 milers, as well as handful of full and half marathons.
I have been incredibly lucky to run and race around the globe, notching up finishes in not only Canada and the USA, but also Sweden, Poland and Lesotho. I have had moderate success in smaller-community races, winning the Mt. Si 50km in both 2013 (4:34:04) and in 2017 (4:42:48), as well as the Sri Chinmoy 7-hr race (39.49miles/58.4km). My win at the 2013 Mt. Si 50km earned me a spot on the Canadian team at the Commonwealth Running Championships in Wales. Otherwise I am a solid mid-packer when it comes to racing the big guns.
Locally, I enjoy being a part of the North Vancouver, and larger Pacific Northwest, running communities. I love showing up at an event and feeling like it's a family reunion. Friendly faces you see from race to race, and perhaps bump into on the trails in between.
I have taught running clinics for Kintec since their inception in 2010, as well as lead clinics for Grouse Mountain and for two Nike trial studies. I enjoy introducing people to the sport of running, whether on road or trail, and love encouraging runners into a new distance or a better time. As I've run now for over a decade my goals have evolved from wanting to run fast to wanting to experience beautiful places through running.
I enjoy races with a geographical sense of accomplishment, and last year circumnavigated Mount St. Helen's in the Volcanic 50km race. While road running is a great way to explore a new city, or bang off some quick miles, I find peace and joy whenever I hit the trails and am out amongst the trees or mountains. Life takes us to some incredible places, and I am lucky enough to enjoy running along the way.
Half: 1:43:31 (First Half Half-Marathon, 2018)
50km: 4:34:04 (Mt. Si 50km, 2013)
Full: 3:44:46 (BMO Vancouver Marathon, 2009)