Nike Zoom Fly Shoe Review
This shoe makes it easier to run faster for longer. Read our full Nike Zoom Fly Review to learn why!
Brand
Model
What Activity Were These Shoes Used For?
Running one to two times per week while recovering from injury
Goals
Recover from injury, then use as a mid-long distance shoe
Comparable To…
True To Size?
No – most runners should go around a half size up in these shoes.
The Nike Zoom Fly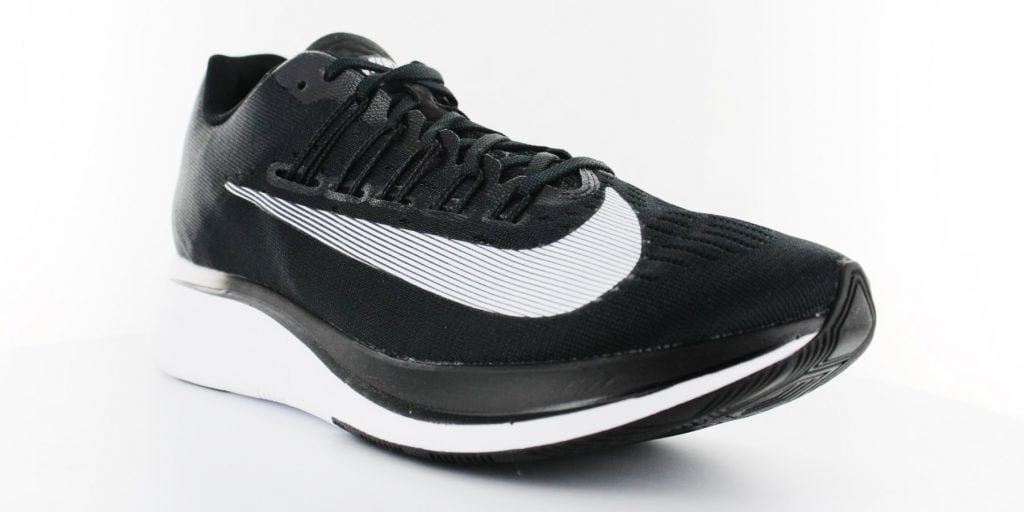 Efficiency
The Nike Zoom Fly was birthed as a little brother to the Vaporfly 4% and Vaporfly Elite – the shoes Nike released in 2017 that were designed with one purpose: propel athletes to run a marathon in less than two hours. The two-hour barrier was never broken, however, Eliud Kipchoge ran an incredible time of 2:00:25, and later set the official marathon world record in Berlin with 2:01:39, both in Nike Vaporfly shoes.
So how did he do it? How much can a running shoe really impact how fast you run? The answer is quite a bit, and it's all through one concept: running efficiency.
Through the use of a snug upper, a lightweight midsole, and a steep, stiff forefoot rocker, the Nike Zoom Fly (as well as the Vaporfly) is an all-around efficient shoe. To sum up the shoe in a few words, the Zoom Fly makes it easier to run faster for longer. I'll break it all down below.
What these shoes do well – that most others don't
1. Allow you to roll onto your toes without having to actually bend at the toe joint. This one is fairly simple and seen in basically every shoe with a forefoot rocker. By reducing overall motion in the foot, your foot does not fatigue as quickly as it would with other running shoes. This ties back into the idea of running efficiently.
2. Promote a proper gait. With the steep rocker, it is very difficult to toe-off improperly – that is, it keeps your foot straight so that you have an even toe-off. It also helps with the proper extension of the hip, as the rocker makes your foot roll forward as your leg extends backwards. In my experience, this helped to offload the muscles making my IT band tight and properly stretch my hip flexors when running.
3. Pick up the pace. When first running in the shoe, the rocker feels like a 'drop off' at the ball of the foot. This made me feel like I had to run faster to keep up with the shoe. This helped me shave more than a minute off of my usual 5km time at the 2018 Fall Classic.
Midsole and Outsole
The Zoom Fly midsole is comprised of Nike Lunarlon foam with a Nike React foam core. Fancy names aside, the foam is soft and light. The shoe only weighs 8.75oz (248g) in a men's size 10 while having a stack height at the heel of 33mm. This translates to lots of cushioning without lots of weight.
When first trying on the shoe, I thought the shoe felt quite firm while walking around. Don't let that fool you, as it has a nice balance of plushness and bounce back while running in it. The shoe has a 10mm heel-toe drop, which I found a little high, but not uncomfortably so.
The outsole plays into the shoe being lightweight, as Nike only placed rubber along the forefoot rocker and at the back for heel striking. The mid-section of the shoe was left exposed to save weight, and while it does wear down faster than the rest of the shoe, I didn't find it to affect the shoe's performance.
The main feature of this shoe is the steep forefoot rocker. The featured carbon-infused nylon plate housed inside the midsole makes the shoe very stiff, and therefore your foot rolls into the toe-off phase of your gait. This is hands-down my favourite feature of the shoe and what makes it distinctly different from other shoes on the market.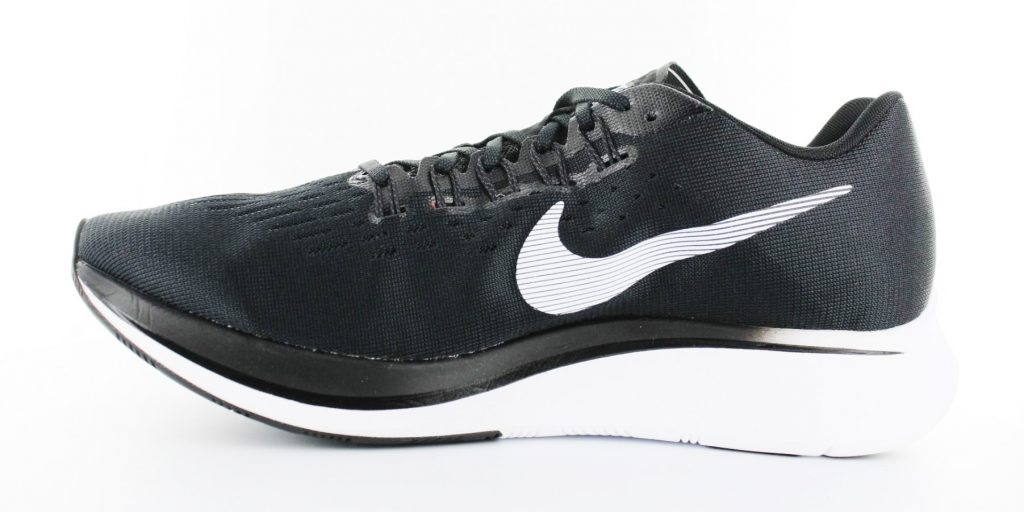 Upper
Nike Flymesh is nearly seamless. The Flywire cables along the midfoot and a solid heel counter in the back also make for a great fit. The midfoot is snug while the toe box is roomy, leaving the toes with a nice amount of room to splay out while running. The toe box is much deeper than most other Nike runners, which is a nice change of pace for them.
Nike also cut out a V-shape in the tongue where the tibialis anterior tendon at the front of your ankle sticks out. I thought this was a nice touch and made the overall fit of the shoe that much better. This plays back into the efficiency idea, as you're not wasting any energy by pushing that tendon into the tongue of the shoe – even if it is a miniscule amount.
I had a couple of instances where I had to stop and tie my laces tighter when I was going at a faster pace as it felt like my foot was shifting around inside the shoe. The laces would then dig through the thin tongue into my foot a bit. This only happened when I was wearing thinner socks, as I was always secure and comfortable in the shoe with proper socks on.
The biggest issue most people will find with this shoe is sizing. They fit about a half to a full size small; I went up to a 12 from my usual 11.5 in Nike shoes. Like any shoe, it is a good idea to try the Zoom Flys on before purchasing them.
Overall Impression
I'd highly recommend this shoe as a long distance or race day shoe. With the nice amount of cushioning that it offers as well as the functional rocker that helps to improve your gait, this shoe will help keep you going for miles.
It also works quite well for those with foot injuries such as metatarsalgia. It has that stiff, functional forefoot rocker that helps to evenly distribute pressure throughout the foot and take stress off of the forefoot.
Star Rating
★★★★½
Why?
With the steep forefoot rocker, these shoes are in a small category. They have a specific job of increasing your efficiency, and they do that job well. My main complaint is that the drop is a little too high for my liking. But other than that, I quite enjoyed running in these. Even with a knee injury, running in this shoe was fun.
Nick Santema
Fitting Expert